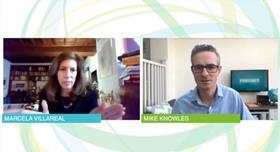 Boosting consumption of fruit and vegetables is a global effort that requires a multi-faceted approach, according to the United Nations.
Marcela Villarreal from the UN's Food & Agriculture Organization (FAO) spoke at the recent World of Fresh Ideas event, discussing what can be done to increase nutrition globally at a time of both chronic hunger and obesity. 2021 has been designated the International Year of Fruit & Vegetables.
Villarreal said this year is a worldwide "advocacy and communications exercise", with FAO offices in 133 countries promoting the benefits of eating fresh produce and calling on private and governmental stakeholders to come together to increase production and consumption. "We have had the participation of consumers, producer associations, Nobel laureates," she explained. "We see the problem as consumption – most people are not consuming the 400g per person per day of fruit and veg. There's a big underconsumption worldwide, partly because they are expensive. Three billion people in the world cannot afford a healthy diet, and fruit and vegetables are a central part of that."
Both the private and governmental sectors have a role to play, Villarreal said, pointing out that in Italy fruit and vegetables are taxed with VAT when she believes they should be zero. Food loss and waste are another major issue, as is finding communications messages that are helpful rather than prescriptive. "It's about information, forms of communicating, and government incentives," she continued. "And also about consumer awareness. When did we get into our minds that we should not eat a crooked banana or carrot? We call them 'ugly fruits', but I don't care if it's ugly. A huge amount of food is wasted because of not adhering to a standard."
Villarreal added that there is also a lack of diversity in commercial production: despite there being some 7,000 plant species edible by humans, only around 120 are cultivated on a massive scale.
Sainsbury's plastic-reduction plan
The sustainability issue was picked up by Sam Warren, tomato buyer at UK supermarket Sainsbury's, who outlined the retailer's plans to reach net zero by 2040.
Warren outlined that Sainsbury's hopes to reduce its plastic usage by 50 per cent by 2025 and is currently 20 per cent of the way towards that target. "It's been hugely successful and we've built up a huge amount of momentum, but now we need a bit more creativity to work with our suppliers and turn over every stone to reach that," he explained.
As an example of the progress it has made, Warren cited the Taste the Difference Vittoria 225g tomato pack, which now comes in a cardboard box with a bit of plastic around it. "So we need to work out how we can remove that ultimately, but that even of itself was a significant reduction," he said. While more loose produce could be a part of the equation, it would only form one strand of a much wider plastic-reduction strategy, he added.