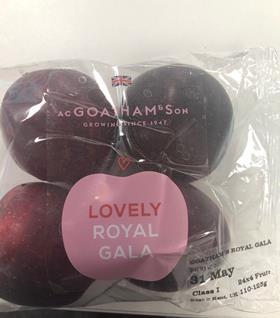 AC Goatham & Son has launched a new branded line of British Royal Gala apples, which will be available for the first time during June, July and August this year.
The Kent firm, which is the UK's largest apple and pear grower, is inviting retailers to stock its new Goatham's branded pack of Royal Gala, which it says represents the first time that UK shoppers will be able to buy British product in the summer months. The breakthrough follows investment in the latest cold storage technology and the planting of over 1.8 million new fruit trees in recent years.
The development marks an industry first in making the red British Royal Gala apples available to consumers for almost 12 months of the year. That will put it head to head with southern hemisphere imported lighter-coloured Gala from South Africa, South America and New Zealand.
AC Goatham's commercial director Carol Ford said: "We are throwing this offer open to any UK retailers, wholesalers and cash and carry businesses who would like to stock British-grown Royal Gala in June, July and August this year, filling the gap which is normally made up from the southern hemisphere.
'This will significantly reduce food miles, be a great talking point and a way of engaging with customers, but importantly give them the opportunity to buy and eat quality British-grown apples which taste as good as the day they were picked."
AC Goatham has been working on extending the British season for some time, and has worked with customer Sainsbury's over the past seven years to reach the 12-month ambition.
Sainsbury's will also be selling the grower's British Royal Gala apples this summer for a couple of months longer than any previous year.
"Utilising the most modern fruit varieties, orchard management, fruit-growing methods and cold storage technology, our team here at Goatham's grow great-quality apples and pears, ensuring that as a nation we are growing more, selling longer and eating better," Ford added.
"This season we've saved the best fruit till last, because due to our partnership with Sainsbury's we know that it will store the best, ensuring that we deliver our delicious British apples all-year-round, and not just any apple, but the nation's favourite Royal Gala. Realising this ambition has taken time, care and meticulous attention to detail but it has been well worth the wait."