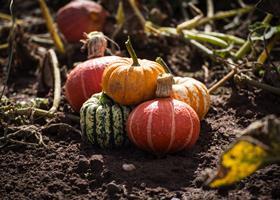 Brought from the New World and playing a bigger role in new cuisine, squash is a category in tentative growth. Figures show pumpkins in particular are enjoying strong sales, leaping nearly 20 per cent in volumes last year, up to over six million kgs.
Combined, the pumpkin and squash categories now make up a £24m market. But growers like Paul Southall, commercial director for Southalls of Norchard, feel there is much more to come from an enigmatic category that straddles many markets and is extremely versatile.
"Our experience is that it's scaling up. We're getting more demand and hopefully that will continue this year," says Southall, who grows pumpkins and squash on a 135-hectare farm in Worcestershire.
"We grow a range of pumpkins and squashes – about 25 to 26 varieties. We have started selling edible pumpkins and mixed squashes, as well as munchkins," he explains, the latter referring to an array of multi-coloured and multi-sized pumpkin-like squashes.
"Over a period of five years we've developed the mixed squash range through a series of trials. It's become a really important operation for us. We have quite a range of customers from supermarkets to farm shops and some wholesalers."
Southall says pick your own also provides another sales channel, something particularly popular for Halloween. Fellow pumpkin growers Foxes Farm Produce also use pick-your-own to help cut food waste.
While the dominant cooking squash at the moment is butternut squash, mostly coming from Portugal and Greece at this time of year, Southall says the mixed squash ranges are "predominantly UK-grown".
He is currently aiming to expand the season deeper into winter, when squashes find their most fitting environment outside of Halloween. "Things like Bonfire Night and Thanksgiving, it's a great product for those kind of events.
"We start harvesting early September and we have invested in covers to get the early plants. We're going to try and continue to grow after Christmas. We're aiming to go through from now until at least the middle of December.
"What we produce is very versatile; you can have them in a basket, in the kitchen, they look good as an ornamental, and they are good to eat as well. They all have different flavours and tastes; it's a great product."
Particularly exciting for squash is the rise of vegetarianism, flexitarianism, veganism, and any other –ism currently placing fruit and veg centre of the plate.
"They definitely fit the movement towards vegetarianism and veganism, as they are fibrous and they soak up the flavour of dishes like curries," Southall says.
This year, conditions bode well for a good crop, after last summer's heatwave made growers work extra hard for their produce. "In terms of production, it's an even crop. It was very dry last year so we had to irrigate a lot, and we have had a reasonable amount of sunshine and rain."
Going forward, growers like Southall still believe there are greater sales to be had from current focus points such as Halloween. "We think there's more growth in Halloween, which is still building in sales of pumpkins.," he says. "Sales in the US are higher than they are here and I don't see why we can't develop along those lines."