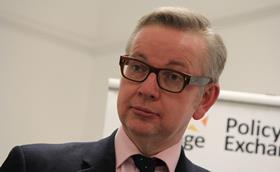 Prime minister Boris Johnson has asked the former Chancellor of the Duchy of Lancaster Michael Gove, to lead a cross governmental committee responsible for dealing with food supply chain issues as fears grow over Christmas shortages,reports Global Cold Chain News.
The National Economic Recovery Taskforce (Logistics), will co-ordinate across government departments, and is likely to run along similar lines to the no-deal Brexit preparations. The group is expected to look at ways of increasing the number of HGV drivers and work with food suppliers to solve the problem.
Road Haulage Association (RHA) chief executive Richard Burnett told the publication: "For UK food producers and suppliers, Christmas preparations began months ago. But without the number of HGV drivers needed to keep store shelves and freezers full, and with only 15 weeks to go, Christmas 2021 will look very different to previous years. But the members we represent and the industry as a whole will do all they possibly can to help because that's what they always do.
"We look forward to working closely with Mr Gove and his team to achieve this monumental challenge."
According to the report, Gove was given the role before he moved his role at the Cabinet Office to Secretary of state at the Ministry of Housing, Communities and Local Government on Wednesday (15 September).
Gove took on a similar role pre-Brexit in managing no-deal planning, as well as developing vaccine passports.
The move came as Marks and Spencer's chairman Archie Norman told radio station LBC that supermarkets were facing a "perfect storm", adding it was going to be a "bumpy ride" before Christmas.