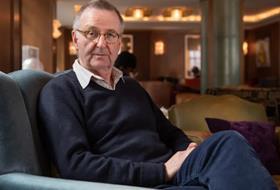 Emeritus professor of food policy Tim Lang has lambasted the UK government's food strategy, calling it "a basket case" and describing Westminster's 'Global Britain' initiative as "a complete joke".
Addressing the Worshipful Company of Fruiterers Conference at the National Fruit Show in Kent, Lang, who founded City University London's Centre for Food Policy in 1994, told delegates that UK fruit consumption and production was too low, and that government mantra that tech and innovation are the solution is wrong.
'Cloud cuckoo land'
Lang described the UK fruit economy as "a picture of imports and underconsumption". He said that the government was in "cloud cuckoo land" if it thought the answer to increasing UK fruit production lay in "water-stressed Kent", and said Westminster's 'Global Britain' policy was as "a complete joke".
"The government is encouraging us to get food from more water-stressed, climate-stressed countries. This is parasitic," he said.
Lang said the UK should be trebling fruit and veg consumption, and that the UK needed to adopt "multicriterial thinking" about its food system.
"We have a locked-in bad-food culture with no incentives for poorer people to buy fruit," he said. "At the same time we have a labour crisis in the UK fruit sector [due to government policy failure] so the softfruit industry, for example, is planning to plant 20 per cent less next year. It's incoherent.
Reframe UK food culture
Over the next 20 years we need to double what gets to the primary producer, and we need to reframe UK food culture so that fruit and veg is the consumer's first choice, not the last, Lang added.
There is a mismatch of demand, markets and policy, he continued. "We've got to get fruit into the framing rethink. We need to have more awareness as consumers about whether our food is ethically OK. We need to do long-term planning in the UK to become more food secure.
'We need more orchards, not in Kent, but in areas where they have surplus water. We have to plan to move vegetable production going on in regions, such as the Fens, that are about to be submerged by rising sea levels to other regions.
"All this is sobering, but we can find a way through, but not using technology," he concluded. "To paraphrase Bill Clinton, the answer's with the people, stupid."