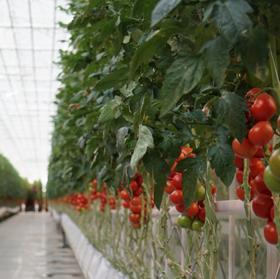 Evesham Vale Growers is marking a major milestone as the company begins picking the first batch of tomatoes from its new eight hectare greenhouse.
The greenhouse sets new standards in construction and sustainability and is capable of operating carbon-neutrally using a 120-acre solar panel farm installed by EVG, and an anaerobic digester to generate gas, CO2 and electricity through a Combined Heat and Power (CHP) unit.
Its anaerobic digester (AD) uses 300 tonnes of feed per day to generate CO2 for the greenhouse, all collected from EVG's waste, including tomatoes and spring onions, and feed crops grown by the company – maize, sugar beet, and grass silage. The AD also produces surplus CO2 which can be liquefied and sold on to breweries for use in drinks production, a valuable proposition after last summer's Europe-wide CO2 shortage.
Located in Pershore, Worcestershire, the new greenhouse also boasts energy-efficient LED lighting, described by lighting manufacturer Philips as one of the most advanced in the northern hemisphere. EVG will produce 4,000 tonnes of tomatoes a year with a hydroponic system that uses rainwater captured on the greenhouse roof.
"It's investing in British horticulture. I think growing British tomatoes through the winter is the way to go. We're ensuring British tomatoes 52 weeks of the year," says commercial director David Shepherd.
With tomatoes a high-performing category at the moment, greenhouse construction in Britain is booming, promising greater supply of British produce year-round for customers seeking to buy British. Some have criticised the environmental impact of greenhouses, however. Riverford founder Guy Singh-Watson called greenhouse production an "insanity", with a 2008 study finding primary energy use in heated UK tomato production was four times higher than unheated Spanish winter tomatoes.
Nevertheless new generation greenhouses such as EVG's, and the recently announced sites in Suffolk and Norwich, funded by Greencoat Capital, (which use excess heat from Anglia Water's heat pumps), promise to usher in a new era of low-carbon production.
"I can't see how it's not environmentally friendly. It's scientific production, indoors without using pesticides and herbicides. We use bees to pollinate the crops, and the tomatoes are grown hydroponically," Shepherd says.
The LED system also means the greenhouse can take advantage of extra lighting during warmer climates. "LEDs don't produce heat. Typically if you have a dull day in May you can't use conventional lights because it gets too hot and burns the tops of the plant, but with LEDs you can replicate a sunny day in June."
Boosting the supply of British fresh produce has been a major aim of the industry in recent years, as domestic production falls to historic lows. The Brexit vote has added greater urgency to the issue, with the future of fresh produce imports and exports still unclear.
"Dutch exporters are telling us it will take an extra two days to import, as currently it takes that long to export into Switzerland and Norway [two non-EU member states]," Shepherd says.
"If produce coming from Spain and Italy takes four days already, and you add another two days, it's already six days old by the time it reaches us. Our tomatoes can be on supermarket shelves the following day."