Grocery price inflation falls to single digits for first time this year, coinciding with rise in grocery sales, says Kantar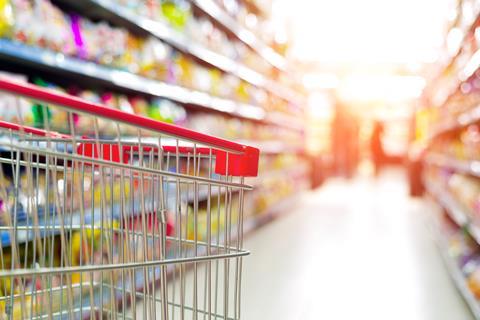 Grocery price inflation has fallen below 10 per cent for the first time since July 2022 and now sits at 9.7 per cent for the four weeks to 29 October 2023, according to the latest data from Kantar.
Take-home grocery sales over the same period rose by 7.4 per cent compared with last year, Kantar reports.
Fraser McKevitt, head of retail and consumer insight at Kantar, said: "Grocery price inflation has finally dropped into single digits after 16 months of double-digit growth, marking a big milestone for the British public and retailers.
"While the drop to 9.7 per cent is positive news and something of a watershed, consumers will still be feeling the pinch."
McKevitt said retailers are continuing to look at ways of softening the blow for shoppers and slowing the rate of price rises. This has included upping the ante on promotions – with every single one of the grocers increasing the proportion of sales through deals versus last year which is something that has only happened on one other occasion in nearly ten years.
"Consumer spending on promotions has now hit 27.2 per cent of total grocery sales – the highest level we've seen since Christmas last year. This is a big gear shift from October 2022 when this figure was less than a quarter," he said.
Shoppers have also been taking matters into their own hands to help manage their spend by trading down on the items they're putting into their baskets, McKevitt added.
Own label lines have grown ahead of their branded counterparts every month since February 2022, with the latest four weeks showing a sales boost of 8 per cent for these lines.
However, he said picture may well change as we go headlong into the festive period, when shoppers typically turn more to brands, and added that the fight for shoppers' Christmas spend looks set to be fierce between the retailers this year since British consumers are not loyal to a specific chain.
"Some of the traditional shopping demographics and stereotypes have been thrown out of the window," said McKevitt. "The typical customer walking through the doors of the discounters is now representative of the country as a whole, with 54 per cent of Aldi and Lidl's sales coming from the more affluent 'ABC1' social group – close to the national average of 55 per cent. Discounters are making their mark in frozen items and fresh groceries like meat and veg, with these categories constituting a higher proportion of their sales than the traditional retailers."
In terms of grocery retail share, Lidl was again the fastest growing retailer this month with sales over the 12 weeks up by 14.7 per cent and share up by 0.4 percentage points to 7.6 per cent, according to Kantar.
Fellow discounter Aldi sat beside Waitrose as one of only two grocers to increase its number of shoppers year on year, attracting 207,000 more customers than last year. Aldi and Waitrose grew sales by 13.2 per cent and 5.4 per cent respectively to take 9.7 per cent and 4.6 per cent of the market.
Sainsbury's was the fastest growing traditional supermarket this month, with sales up 10.1 per cent over the 12 weeks to 29 October compared to last year. Growing ahead of the market, the retailer now holds 15.2 per cent share, up from 14.9 per cent last year.
Britain's largest grocery chain Tesco gained share for the fourth consecutive month to take 27.4 per cent of the market, an increase of 0.4 percentage points versus a year ago, as year on year sales growth reached 9.5 per cent.
Morrisons has now been back in growth for seven months, with sales in the latest period up by 3.2 per cent. It now holds 8.6 per cent of the market and Asda stands at 13.6 per cent. Co-op's sales have grown by 5.2 per cent, the fastest rate since March 2021. Its market share stands at 6 per cent, though in baskets that are less than £20 this figure jumps considerably to 16.9 per cent.
Iceland now accounts for 2.1 per cent of the market, as sales increased by 2.6 per cent over the 12 weeks. Online-only grocer Ocado's market share has risen to 1.7 per cent, while its year-on-year sales have grown by 12.6 per cent.