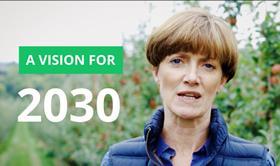 As the UK topfruit season gets under way, industry chief Ali Capper has said she is confident of boosting the proportion of British apples on supermarket shelves so long as grower confidence can be maintained.
This year has been difficult for topfruit growers with both the coronavirus pandemic and a 6.2 per cent rise in the National Living Wage increasing operating costs.
Capper said the industry now needs retailers' returns to reflect these challenges and help give producers the encouragement to continue investing in new orcharding after a "wobble" in confidence this year.
Over the last 10 years British growers have invested £130 million in new orchard systems, with a further £1m spent on varietal development in the past three years.
In 2018, British Apples and Pears announced its aim of increasing British apples' retail market share from the current 42 per cent to 60 per cent by 2030.
Two years on, Capper said she is confident that if the topfruit industry can get the balance right between grower confidence and retailer demand, the sector can meet its target within this timeframe.
"If we've got grower confidence to invest in orcharding, I'm sure from all the conversations we've had with retail that they do want British fruit," she said.
"British fruit isn't always the cheapest ­– we've got some of the most expensive land and labour in the world– but if retailers buy British, they are buying the lowest carbon footprint. That matters because it means that what they're putting on the shelves is very sustainable, and retailers want that."
An Apple A Day
The trade body is planning an extensive marketing campaign across online and offline media, which will kick off on 5 October when British topfruit hits supermarket shelves.
The start of the British season will be promoted through a combination of online and offline media, including appearances on national broadcasting slots, press coverage, social media influencers, orchard photography and a virtual tasting event with Raymond Blanc.
Continuing with the 'An Apple A Day' strapline, the focus will be on promoting the health benefits of eating British apples every day, as well as their great flavour.
A challenging season
Erratic weather has made it a difficult growing season this year, and the crop is expected to be 20 per cent smaller than initially expected. However, fruit quality is looking excellent and volumes will be the roughly the same as last year with 1.3 billion apples and pears (148,700 tonnes) forecast.
"It's definitely keeping growers on their toes," said Capper. "The positives are that we had a fantastic spring, so we got great pollination, we've had a lovely long growing season, and we've had loads of sunshine hours. This all means we're going to get great-tasting, well-coloured fruit. We're not chasing ripeness or colour, which in some years we have been.
"But it has been challenging. Everything that the weather could throw at growers we've had this year. It was the wettest February on record ­– there were some challenging hot conditions in the spring, and on our own farm we've had two lots of frost and two lots of hail, which is unprecedented."
When it comes to varieties, Gala remains the leading cultivarin the UK, with volumes increasing by 224 per cent in the last 10 years to an estimated 72,000 tonnes this year. Cox is also a major variety, while Braeburn and Jazz are also produced in large volumes.
Major volume growth has been seen in what are known as the British desert varieties. These include around 20 cultivars including Red Windsor, Junami, Cameo and Kentish Kiss.
Labour headaches continue
Where labour is concerned it is not yet clear whether growers will experience the same level of shortages seen in recent years but there have been anecdotal reports of difficulties.
One producer told Capper that a number of British seasonal workers had not turned up to pick this season, while another said a proportion of their Polish pickers never arrived due to fears Covid-19 might prevent them from returning home at the end of the season.
"There is no reason why this September is going to be any better than previous Septembers and there are a number of reasons why it could be worse, with Covid-19 being the key one," Capper warned.
"I am aware there's a concern in the sector, as has been the case for the last two or three years, that a lot of seasonal workers are starting to think: How am I going to go home? When do I go home? How much do I earn before I decide I want to go home? And I think all of that is making everybody quite anxious."
As growers continue to search for ways of avoiding labour shortages in future, producers such as Adrian Scripps are continuing to trial robotic harvesters.
Meanwhile, a number of growers are developing 2D growing systems in their orchards that make it easier for robotic picking arms to identify and harvest the fruit.