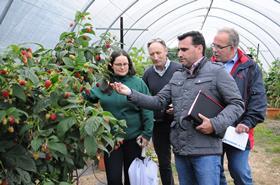 Leading growers, researchers and producer organisations have signed a new five-year agreement worth £400,000 to breed and produce the next generation of raspberry varieties.
Spanish fruit PO Onubafruit, Swiss garden plant suppliers Lubera, UK grower WB Chambers and East Malling Services have all signed the International Rubus Breeding Consortium Agreement, which will use existing genetic material, including parental breeding lines and advanced selections, to create future varieties for both commercial and amateur markets.
Other interested parties are being encouraged to join the consortium, which has the potential to expand and cover other berry crops.
"Breeding new varieties is a long-term game, so we are delighted to be taking forward the vision that the East Malling breeders had one, two and even three decades ago," said Tim Chambers, chairman of the new consortium.
"The genetic resources available to the new breeding programme will see both improved 'traditional' varieties being released, as well as a number of varieties with very novel characteristics. These are, indeed, very exciting times."
Roger Carline, EMS managing director, who spearheaded the agreement, welcomed the possibility of other members joining the group, and said expanding to other berries, such as blackberries, and other territories, is also a potential opportunity.
The first varieties under the new agreement are likely to be released as early as 2017 and would include two new primocane cultivars, two amateur varieties, one dwarf for container growing and a purple-fruited autumn berry.
Raspberry breeding at EMR has been underpinned by EMR, the East Malling Trust and Lubera since 2008 and was previously supported by Defra and an industry-wide consortium.