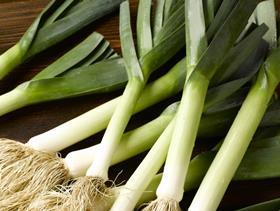 A national emblem of Wales, the versatile leek could be in short supply ahead of the annual celebration of St David - patron saint of Wales - on 1 March, reports Evening Express.
UK supply is said to have almost run out due to a 15 per cent surge in demand as more people cook from home during the pandemic, coupled with last spring's cold temperatures which led to smaller crops.
According to the publication, the British Leek Growers' Association said suppliers are having to import more expensive continental leeks from places like the Netherlands to "fill the void" and meet demand in time for Wales's national day.
Chairman Stewart Aspinall told the PA news agency: "This unexpected growth in demand, coupled with a harsh spring in 2020, which affected seed populations, means that we're experiencing a shortfall, with supply ending earlier than normal.
"There should be leeks on the shelves, but if people want to keep eating them they might not be able to find British ones.
"And it's at a time when the vast majority of the population are looking to buy more locally sourced produce rather than international ones with a higher carbon footprint."
Nic Joseph, owner of Ritec Valley Organics in Penally, Pembrokeshire, which delivers boxes of its own produce to customers, said his leek crops ran out around two weeks ago.
He told PA: "We are selling some wholesale leeks to a couple of people but not with the box scheme.
"I'd be quite sad if people couldn't buy Welsh produce in Welsh supermarkets if they were looking for stuff for St David's Day."