UK salad and veg grower G's hosts visit from Defra minister and secretary of state for culture, media and sport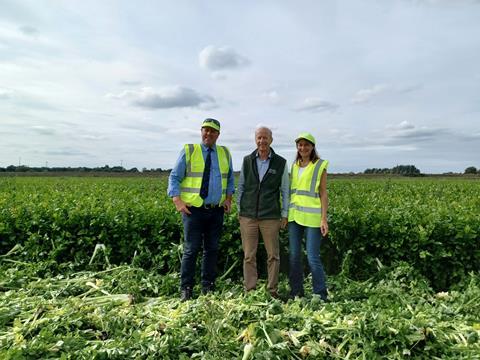 Defra food and farming minister Mark Spencer officially opened a new £12m onion grading facility at G's Growers' Ramsey site in Huntingdon last week (14 September).
Spencer also toured G's Barway facilities near Ely with secretary of state for culture, media and sport Lucy Frazer MP, where the ministers met with the G's team to discuss a range of issues and opportunities currently impacting UK farming.
Discussions ranged from the access to labour and skills, through to the impact of lowland peat on UK emissions, G's said.
The ministers toured the Barway site and visited G's organic farming and celery harvesting operations to see first hand the speed of harvest and the challenges of infield automation of salads harvesting.
A grower himself, Spencer stated the importance of horticulture and the role of UK growers in promoting the industry and ensuring that consumers are aware of its importance in keeping shelves full and feeding the nation with UK grown fresh produce.
He restated Prime Minister Rishi Sunak's vision at the UK Farm to Fork summit to produce domestically 60 per cent by value of all the food we need.
Will Jolly, chairman of the G's Growers onion grower group, thanked Spencer for opening the new grading facility and the support Defra has given to UK producer organisations to date.
He added that G's Growers is pleased to be able to contribute to discussions on the future of UK producer organisation post-Brexit.
Jolly said Brexit has presented a real opportunity to remove some of the Brussels bureaucracy surrounding producer organisations.
"A new UK producer organisation (PO) scheme presents an opportunity to really add value to UK growers, making them more productive and ultimately better equipped to serve UK consumers and feed the nation," he said. "It also gives growers the opportunity to ensure they are in a good position to achieve future net zero and environmental targets."