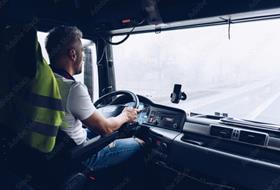 The Road Haulage Association (RHA) has today (24 September) urged the government to relax visa restrictions for foreign workers in the short term to ease the driver shortage.
But UK transport secretary Grant Shapps told the BBC this morning he did not want UK lorry drivers to 'drop out' because of being 'undercut' by cheaper EU labour.
He said there were 'systemic problems' in the haulage industry that needed to be resolved, pointing out that the profession was '99 per cent white male' with an average age of 55, facing poor conditions and wages.
Now, he said, pay was rising and there was 'a gradual increase' in new drivers.
Yet he also told Sky News he would "move heaven and earth" to solve the nationwide shortage of truck drivers that threatens fuel supplies at some petrol stations, adding that motorists should not panic as the problem would be "smoothed out relatively quickly".
Shapps said he would consider all options, including the possibility of issuing short-term skilled worker visas to tap mainland Europe's pool of potential HGV drivers.
"I'll look at everything," he told Sky News. "I wouldn't rule anything out. We will move heaven and earth to do whatever it takes to make sure shortages are alleviated with HGV drivers."
Some petrol stations in the UK have been forced to close after the nationwide shortage of HGV drivers left forecourts without supplies.
BP said on Thursday that up to 100 of its forecourts were short of at least one grade of fuel, with several forced to close entirely because of a lack of deliveries.
Earlier, Rod McKenzie of the Road Haulage Association trade body accused ministers of "government by inertia", allowing the situation to get "gradually worse" in recent months.
He said a "very short-term" measure would be to allow drivers on to the shortage occupation list and "seasonal visas" for foreign drivers.
Commenting on the petrol station closures, industry body Logistics UK said: "The driver shortage is a very serious issue that needs urgent government and industry action to resolve."
Earlier in September 2021, the government announced its plans to streamline the HGV driver testing process to enable 50,000 more tests to be made available each year.
While Logistics UK said it welcomed this measure as a positive step forward in enabling new drivers to join the occupation, the new, streamlined processes need to be implemented quickly if they are to make a significant difference to the current shortage in time for Christmas.
'The logistics industry is doing everything it can to overcome the driver shortage and ensure stores are stocked with the goods they need – through measures such as recruitment drives, the introduction of apprenticeship and upskilling training schemes, increasing pay rates and offering bonuses – but the situation will worsen if further government action is not forthcoming.

'The logistics industry is committed to employing domestic drivers to overcome the current shortage. But while these drivers are trained and qualify into the workforce, which can take up to nine months, and DVSA (Driver and Vehicle Standard Agency) works through its backlog of outstanding HGV driver tests delayed due to the pandemic – which we estimate could take until early 2022 – Logistics UK is pressing for temporary visas to be made available for European workers. This would help to overcome the current supply chain problems experienced across the UK.
'The industry needs drivers now, and we are urging the government to replicate its temporary visa scheme, introduced for agricultural workers and already in place for seven other industries, for logistics so that retailers can keep our shelves stocked.
'Logistics UK is also urging the government to review longer-term measures, such as implementing funded training to open the industry up to as many people as possible and addressing the long-term recruitment issues which logistics has faced for many years, such as poor welfare facilities across the strategic roads network, which leave drivers without adequate access to hygiene or food provision.'
Logistics UK added that it is taking its own action to highlight careers available across the sector, including both job vacancies and training schemes, as well as the chance to sign up for work experience, with the launch of a new nationwide initiative for its members.
The Discover Logistics Careers weekend, running from 29 October to 1 November 2021, will encourage local outreach for logistics businesses nationwide and show potential employees the range of job opportunities which currently exist across the sector.
Dscount grocer chain Aldi will be organising a tour of its regional distribution centre in Atherstone in Warwickshire over the weekend, and other retail businesses are expected to announce their plans shortly, Logistics UK said.