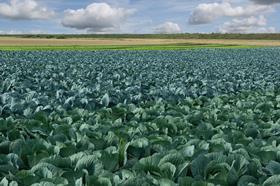 British growers won't be able to plant their winter crops if the UK's record-breaking dry spell continues, as a year of nightmare conditions tests small growers' resolve.
Almost no rain in the first months of summer has brought cheer for much of the country, but UK farmers are reeling from the extreme conditions.
Producers in the south of England have had the worst of it, suffering from higher temperatures and less rain than their northern counterparts, with brassica growers now saying the ground is too hard to plant for the winter crop, a key source of Britain's Christmas veg.
Greville Richards, managing director of Southern England Farms, said he only has a few patches of land left with enough moisture for planting new crops.
"This weather we're experiencing at the moment is getting really quite serious now for brassicas. We're in the middle of planting our winter cauliflower and we're thinking about stopping planting because it's just so dry.
"We've got some areas in Cornwall now that we just can't plant because it's so dry and we're getting quite concerned now about our winter crops… we're getting really worried about what we're planting now for the winter months because it's just getting too dry to plant."
Carrot and onion growers have also warned of a supply crisis lasting up to a year after the year's topsy-turvy climate decimated British crops.
Demonstrating the significant lack of rain, managing director of New Leaf Irrigiation Darran Grieveson said: 'We should have had 80mm of rain in June and July – instead we had 1.6mm. If you haven't got water you haven't got a business."
Colin Putt, sales manager at Total Produce, echoed Grieveson's warnings. "It could put smaller growers out of business, even some medium-sized businesses," he said.
"They have got contracts to fulfil, but it's hard to see how they will do it. It's become harder and harder for growers to find funding because the banks aren't lending."
Richards said the heatwave will push prices up as the heatwave demands more from farmers. "We're speaking to retailers because we need more money now for our crops. The original cost prices agreed for this summer aren't stacking up because the yields are so low, so we're all in negotiations now to look for increased cost prices to mitigate the problem we've got at the moment."
One potato grower said this season will test the touted new paradigm of more cordial and sustainable supplier relationships with Britain's supermarkets.
"I'm probably not going to cover my contract which could lead to a few difficult conversations. Relationships will be challenged and the ones that come through will be the ones that last," he said.
Rain has been forecast over the weekend for Cornwall and the rest of the country, but for many it is too little too late to significantly help the crops, with producers saying it won't make a difference.
"If August ends up being a dry month, we'll basically kiss goodbye to a lot of our winter production. The overall prospect for Cornwall at the moment is not good," adds Richards.
Additional reporting by Fred Searle