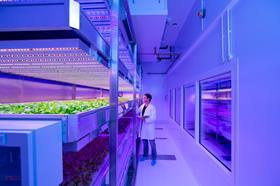 Sausage producers Heck has applied for a £500,000 grant to build a vertical farm.
The Yorkshire-based company stated it is aiming to grow leafy veg to use across its prepared food range, having previously claimed it plans to turn the Vale of York into the "Silicon Valley of Food".
Alongside production, Heck will use the vertical farm to showcase innovation and development in indoor food production.
Co-founder of Heck Foods Debbie Keeble said: "We are farmers turned producers but now we are able to look to the future of agriculture and how we drive our business forward.
"There are huge benefits to vertical farming – no pesticides or herbicides, less water, no transport, less food waste, higher production, better shelf life – the list is endless.
"Our aim is to be able to produce a wide range of leafy veg and herbs that we can use across the range, delivering tasty flavours from farm, to factory, to plate."
Richmond MP Rishi Sunak added: "Its companies like Heck that are really putting Yorkshire on the map as a county of excellence for food and growth… The plans for vertical farming are hugely exciting as this method is precise, time-efficient and waste-free method of growing and will provide inspiration for other producers looking for future food innovation."