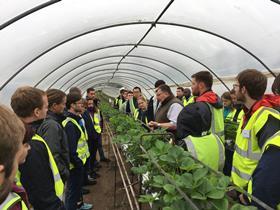 New agricultural "T Level" qualifications at British schools can reverse the UK's ageing farming demographic and get far greater numbers into crop production.
The new qualification will be the technical equivalent to A Levels, combining classroom theory, practical learning and an industry placement, with the first T Levels to start this year in Education and Childcare, Construction and Digital.
A newconsultationby the government body that oversees technical education, The Institute for Apprenticeships and Technical Education,is seeking the views of everyone involved with the agriculture, land management and production sector on the planned content for this exciting new qualification.
With agricultural T Levels to begin in 2023, the institute is urging anyone in agriculture and horticulture to have their say, and help shape the future of farming.
With the average age of farmers in this country now approaching 60, theproportion aged under 35 has remained stubbornly under 5 per cent since the turn of the millennium.
The Institute's deputy director for technical education implementation, Carmel Grant, said T Levels can help turn these figures around.
"T Levels can play a vital role in attracting younger people into agriculture, land management and production and maximising benefits to the sector from technological advances.
"This consultation is open to everyone who cares about agriculture and how we train the next generation. We need feedback from as many people as possible."
The consultation is focused on the draft outline content for the T Level designed by the Institute's panel of industry experts.
It involves seven training specialisms: crop production, floristry, habitat management (land and water), land-based engineering, livestock production, ornamental and environmental horticulture and landscaping, trees and woodland management and maintenance.
T Levels are new two-year classroom-based technical study programmes, which will also involve a substantial amount of work experience. They are being rolled out across the economy and alongside apprenticeships and A levels, T Levels will be one of the three major options available to students aged 16 – 19.
TheInstitute will be running webinars for employers starting next week to gather feedback on the draft outline content and ensure T Levels include the knowledge and skills required by those who will be recruiting people into the industry.
For more information emailEmployer.Panels@education.gov.uk.
The webinars will take place on:
·Floristry: 22 June
·Crop Production: 22nd June
·Ornamental and Environmental Horticulture and Landscaping: 23 June
·Tree and Woodland Management and Maintenance: 23 June
·Land-based Engineering: 24 June
·Livestock Production: 24 June
·Habitat Management - Land and Water: 26 June
·Animal Care and Management: 30 June
·Equine Care and Management: 30 June