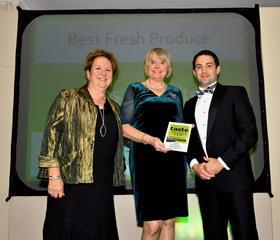 Yorkshire herb grower Herbs Unlimited has invested £200,000 in new machinery and a packhouse expansion as the company gears up for further growth.
The investment, due to be complete by 2018, comes as the company was presented with the Best Fresh Produce Award at the 2016 Taste Awards, run by local paper The Yorkshire Post.
The award was presented for the company's Oxalis leaves, described by judges as "visually spectacular with a subtle and very different flavour. It would grace the tables of any top restaurant in the land."
It was collected by managing director and former chef Alison Dodd at the annual awards night, who said she was "delighted" with the accolade.
"Oxalis is part of the wood sorrel family and has a fabulous variegated clover shaped leaf with vibrant pink flowers. The plant can be used in salads or chopped and sprinkled on fish to add a delicious citrus taste," she said.
The Taste Awards celebrates Yorkshire's food and drink scene, and is jointly run by the paper alongside regional food group deliciouslyorkshire.
Herbs Unlimited produces herbs, edible flowers and babyleaf salad on 92 acres near Thirsk, North Yorkshire. It employs 45 permanent staff and has a turnover of £4 million.
"We have seen an increase in edible flowers year on year to – not only through wholesalers but also online through our shop for private parties and weddings," added Dodd.