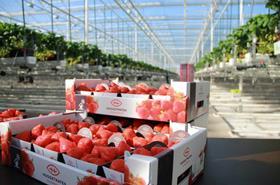 Hoogstraten says it is putting sustainability first by using recycled carton punnets for its premium strawberries, which are available all year round and supplied directly to the UK.
The Antwerp-based Belgian fruit cooperative announced it has switched to recycled (90 per cent) and recycleable carton punnets for its standard strawberry packaging, making a big step in reducing plastic waste.
Belgium is the main source of strawberries in Europe throughout October and November.
Synnøve Johansson, business development manager at Hoogstraten, said: "An additional benefit of the new carton punnet is the labour costs that are reduced for our growers. Our new machinery assembles each punnet and places them in a pre-assembled carton pallet, ready to be sent to the grower. This is a helpful tool that is now more useful than ever, as it simplifies the process and saves additional labour for when it comes to picking and packing the fruit."
Packaging material remains one of the largest contributors to the cooperative's CO2 footprint. Hoogstraten is therefore working with its carton punnet supplier to see how they can jointly further reduce this impact in the future,Johansson adds.
"Due to their delicate nature, strawberries are unlikely to be sold loose, and so deciding on the most suitable and sustainable packaging is not always a simple choice. We have invested in an LCA tool to assist us in our evaluation of different packaging options, as it is about more than just reducing our environmental impact or using recycled plastic.
"Other practical factors also need to be considered when it comes to packaging, such as the raw material used, food safety concerns and the shelf life of the product."
Strawberries account for approximately 50 per cent of Hoogstraten's turnover, and two-thirds of its annual strawberry crop is exported - mainly toScandinavia, the UK and France.