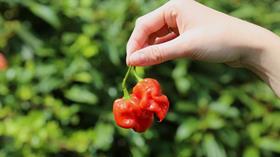 Tesco has unleashed the hottest ever UK-bred chilli pepper, tagged as the "Armageddon" owing to its extreme spice.
The new pepper was grown by the UK's largest chilli producer Salvatore Genovese, on his seven-acre farm in Blunham, Bedfordshire. Seed specialists, Tozer Seeds, bred the new hybrid variety after five years in development, describing it as 'quicker and easier' to harvest too, as well as being better adpated to British conditions.
At 1.3 million Scoville Units, the Armageddon comes close to the notorious Carolina Reaper's 1.5m SUs, bred in America, a level of heat comparable to some pepper sprays.
Tesco chilli buyer Nick Foulds said: "The arrival of the incredibly potent Armageddon will join other legendary varieties such as the 'Trinidad Scorpion', 'Bhut Jolokia', 'Komodo Dragon' and of course the 'Carolina Reaper' among the super-hot chillis we've sold in recent years.
"We chose it because of its wonderful fruity taste which added to its awesome strength will create an unforgettable dish.But remember to be very economical with it – you only need a few tiny slivers."
Tesco revealed demand for super-hot chilli peppers is growing fast, with demand at the retailer for the top of the heat scale variety rocketing by 70 per cent in the last four years.
Armageddon's supplier, Genovese, first started growing chilli peppers 20 years ago after taking over his parents cucumber business. His company Genovese Chillis now grows up to one million, or 15 tonnes, each week.
Genovese said: "In the last year as a result of the soaring demand for really hot chilli peppers we've invested in new machinery that has helped us extend the British growing season by three months – from June until Christmas.
"We've also extended the farm by a further 2.5 acres and now have 130,000 plants including the Cherry Bomb, Naga, and several others."
James Hatherill, European Sales Director for Tozer Seeds added: "As a company we continue to source interesting and novel sweet and hot pepper material, either through our global contact network, or more recently from our own breeding program.
'Working with Salvatore and other UK growers, we can test these genetics with the hope that one of the UK multiples will then take the product to launch; Tesco has been instrumental in developing and promoting hard the `Super Hot' types, which we applaud.'