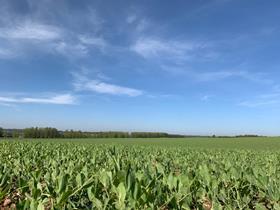 British growers and farmers are offering UK residents the chance to 'adopt' their pea fields for a nominal charitable donation of £1 – or indeed, 100 p(ea).
The drive is part of the annual Great British Pea Week festivities, during which the vining pea industry joins forces to champion the frozen pea.
Yes Peas! the UK campaign devoted to championing frozen peas, has partnered with FareShare, the UK's biggest charity fighting hunger and food waste. FareShare provides food to nearly 11,000 charities and community groups across the UK, distributing 132 million meals in the last year.
To adopt their own pea field, pea enthusiasts should visit the Yes Peas! website where they will find a link to donate a minimum of 100p, to FareShare. Once the donation is complete, they can provide the confirmation number to Yes Peas! along with their address so they can receive their official Adoption Pack.
The Adoption Pack will feature exclusive information, including:
Brand-new recipes
Images and details of their pea field
A thank you message from the industry
Pea seeds to grow their own for 2022
Britain's pea fields will be allocated on a first come, first-served basis with only 100 fields up for adoption. Interested parties are encouraged to move fast to secure their field.
Shula Granville, commercial manager at FareShare said: "We're so pleased to be partnering with Yes Peas! to raise awareness of Great British Pea Week. Every donation to FareShare makes a difference and helps us support people who are vulnerable. Each £1 donated (or 100p) will help deliver enough food for 4 meals."

Coral Russell, Crop Associations executive at the British Growers Association, which runs the Yes Peas! campaign, says: "Here in Britain, we're 90 per cent self-sufficient in pea production so the industry plays a huge part in our agricultural heritage. We want UK shoppers to share our love of peas by adopting a pea field for Great British Pea Week!
"We celebrate Great British Pea Week each year as a mark of the hard work and determination of Britain's pea vining industry which sweeps the length of the Eastern Seaboard.
"This year, we're partnering with FareShare as food waste is something for everyone's agenda and reducing food waste is something we can all do. Frozen vegetables such as peas are a fantastic ingredient that can be the star of the dish, and you only take what you need!"

The highly successful Yes Peas! campaign, run by the British Growers Association and funded by growers, freezers and machinery companies from the vining pea sector, is in its thirteenth year. The campaign aims to promote the versatility, provenance and nutritional benefits of frozen peas and engages with consumers to inspire them to use peas as an ingredient, as well as an accompaniment, to meals.
The campaign is supported by hundreds of recipes developed by campaign ambassador and TV chef, Rachel Green, available at www.peas.org.