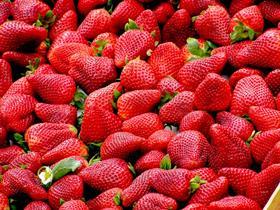 The UK's first National Berry Month – dedicated to celebrating British berries – launched yesterday (1 July).
Industry body British Summer Fruits and Love Fresh Berries, the campaign celebrating the seasonality of British soft fruits, are celebrating the British berry industry throughout July, showcasing the versatility of berries and their importance to boosting Britain's physical, mental, and economic health.
British berries are big business, with the industry now worth £1.71 billion, says British Summer Fruits. And consumer appetites for berries show no signs of abating: over the last 12 months, Brits bought 239,243 tonnes of berries, the equivalent in weight to 114 London Eyes.

The month will feature a whole host of recipes, berry tips and health benefits, including four berry-led recipes from award-winning chef, Jackson Boxer.
In anticipation of National BBQ Week (2nd July – 11th July) and long summers days, four easy-to-make recipes have also been developed: Strawberry Cider Can Chicken; Spiced Raspberry Brisket; Fruity Tofu Skewers; and Blueberry Jalapeno Tuna Steaks.

Britain's first National Berry Month will end with a bang as Love Fresh Berries partners with outdoor cinema pros Cinestock to provide fresh berries, nature's pick'n'mix, at selected screenings throughout the summer. Plus, Love Fresh Berries will be sharing delicious berry-inspired twists on classic cinema snacks for berry lovers to try at home with tips on how to create the perfect backyard cinema set up.

Nick Marston, chairman of British Summer Fruits, the industry body that represents 95 per cent of berries supplied to UK supermarkets said: "The British berry industry is an essential economic pillar in Britain and is now worth £1.71 billion with expenditure increasing almost 10 per cent in the 12 months from March last year. Not only is the industry boosting the health of our economy – but crucially the health of the nation. Berries are a brilliant provider of vitamin C and have important antioxidant and anti-inflammatory profiles. National Berry Month is the perfect time to celebrate British berries and reap their many benefits with delicious new recipes and summer events."

Jackson Boxer Chef Patron of Brunswick House Café, Vauxhall and Orasay, Notting Hill said: Jackson Boxer said: "I'm proud to be partnering with Love Fresh Berries this July to celebrate British berries as part of National Berry Month. British produce and seasonality have always played a key role throughout my cooking, so I've really enjoyed creating a host of new recipes. British berries are fun, versatile, fresh and packed with flavour and each year I can't wait to get my hands on them.

"By buying British berries you're supporting berry growers across the country while also looking after your health and the environment too. It's been brilliant using them to create some exciting new recipes which I hope will inspire people at home to give them a try to celebrate National Berry Month".