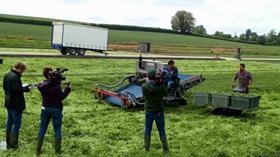 Watercress will hit the big screen on Friday evening as the subject of Jamie Oliver's prime time show on Channel 4Jamie & Jimmy's Friday Night Feast.
During the episode Oliver and his co-host, the celebrity farmer Jimmy Doughty, pay a visit to a Watercress Company farm, run by James Harper, near Alresford in Hampshire, and find out about how the crop is produced, while showing off its culinary versatility.
Managing director of The Watercress Company, Tom Amery said watercress sales could be in line for winter boost, as Oliver shines a light on the various health benefits and ways of preparing the salad staple.
"We're anticipating a boost in sales once the programme airs which is great news for the fresh produce sector," Amery said.
"The episode talks about how nutritious watercress is which always convinces more consumers to buy it, but Jamie also demonstrates the versatility of watercress and how it can be used in the fight against food waste by helping to liven up recipes, perhaps using other ingredients left over in the fridge. It's more than just a salad but a great tasting addition to any dish," he added.
The Watercress Company grows 1.2 million kilos of the leafy green every year. Packed with 50 vitamins, minerals, antioxidants and compounds known to reduce DNA damage. It also aids sports recovery and reduces the risk of cancer, with evidence that it can also reduce blood pressure according to The Watercress Company.
The company said it was "delighted" to welcome Oliver and Doughty to their business, where they put them through the paces planting, rolling and harvesting.
"Jamie and Jimmy were able to jump straight in by drilling beds with watercress seed, the company's lifeblood," TWC stated.
Rolling the watercress is an important pre-harvest process where it is flattened down 24 hours before being picked, to make it rise up in an organised way with a slightly bent stem.
"Jamie and Jimmy were great fun," said James Harper. "They were really interested in the health benefits we discussed and were fascinated by the unusual processes associated with growing watercress, happy to give anything a go, and we filmed the lot."
Whilst in Alresford, Jamie & Jimmy also visit the Mid Hants Railway, better known asthe Watercress Linein recognition of its past vital role carrying tonnes of watercress from the Hampshire countryside to the fresh markets of London in its Victorian heyday.
To see how Jamie and Jimmy get on down on the farm, tune into Channel 4 at 8pm on Friday 17 January.