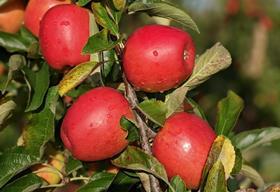 As the first UK-grown Jazz apples of the season are poised to hit UK shelves, Kantar figures show the brand's popularity continues to grow among consumers, with purchases increasing by 18.3 per cent over the past 12 months and shopper penetration up to 26.8 per cent.
The figures come on the back of the brand's success in retaining its 'UK's Tastiest Apple' title after Jazz apples grown by Chandler & Dunn scooped first place at the National Fruit Show Live.
To help celebrate the start of the British Jazz apple season and highlight the efforts of growers, the brand is launching a free-to-download recipe book, including information on individual growers and their favourite ways to use Jazz apples, which will be available online and promoted extensively on social media.
Jon East, trading manager at Worldwide Fruit, revealed that volumes of UK Jazz would be down by around 25 per cent due to challenging weather conditions this season, but he expressed confidence in the overall quality.
"Against the backdrop of some challenging climatic conditions this past year, both at the point of the flowering and harvest, we are anticipating a year-on-year reduction with our overall UK volumes on Jazz," he said. "The frosts endured in late spring, and more latterly the persistent rains and hail storms in both the Kent and West Country orchards, will reduce the overall crop forecast versus our pre-season expectation.
"Despite the drop in fruit numbers we do expect to see an increase in the average fruit size profiling in comparison to last year. Whilst the wet weather has undoubtedly proved a challenge for recent harvests, we are still confident of achieving a good external colour with a clean finish and a distinctive crisp and sweet flavour. Retail sales demand remains strong and we are currently on track to transition into supply of new season UK fruit on the retail shelves in early November."
As a result of Covid-19, much of the brand's events spending has apparently shifted to digital marketing and partnerships.This summer, the brand announced that it had teamed up with 2x Olympic Silver medallist, Commonwealth and European Champion freestyle swimmer Jazz Carlin and Team GB Olympic long jumper Jazz Sawyers in an effort to boost participation in both sports.
In addition to June's launch of a recipe book showcasing dishes from the UK's top family bloggers, Jazz equally ran an online competition for consumers to submit their favourite apple recipes, with ten selected to feature in a new recipe book in January.
Victoria Cliff, marketing manager at Worldwide Fruit, commented:"The Covid-19 pandemic may have put paid to our plans for the BBC Good Food Show this summer and winter, but we wanted to make sure our legion of loyal Jazz apple fans didn't miss out so moved a lot of our marketing spend online. Whether this was by sharing immune-boosting dishes, simple-to-follow recipe videos or advice on how to stay active from our new Jazz apple ambassadors, we made sure to stay connected through all of our digital platforms."
Jazz, which is grown in over ten countries under a closely controlled quality programme managed by T&G Global, currently stands as the fifth most popular apple variety in the UK, with a retail value of £45.8m.