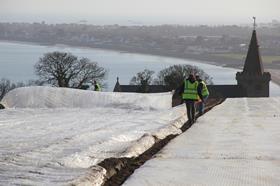 Sustainable farming benchmark LEAF has officially unveiled the Jersey Royal Company as a new LEAF demonstration farm.
In a LEAF first, the Jersey Royal Company (JRC) was unveiled virtually, via Zoom due to ongoign social distancing measures, as the 40thLEAF demonstration farm, which gives growers across Britain access to best practise sustainable growing methods.
Jersey Royal Company, whose potatoes are grown on the steepcôtilsof Jersey, provides the majority of Jersey Royal new potatoes onto British plates during their spring harvesting season.
One third of Jersey's agricultural land is devoted to the popular crop.
LEAF (Linking Environment And Farming) works with farmers, the food industry, scientists and consumers to inspire and enable sustainable farming through developing and promoting Integrated Farm Management (IFM) – a whole farm business approach that delivers sustainable farming.
JRC director of sales and marketing William Church said: "This is an exciting industry and one where you can always learn from others, so we are tremendously excited to become a demonstration farm.
"We look forward to continuing to interact with other like-minded people, learning together to be better at what we do, focusing on sustainability both from a business and environmental viewpoint."
Church outlined some of the novel sustainable farm practises deployed by JRC, including growing hot mustard plants as break crops, whose fumes after felling kill potato cyst nematode, as well as planting bird seed mix for migrating birds.
JRC also partners with local businesses, with its break crops providing winter fodder for cows in Jersey's famed dairy industry, as well planting flowering pollinators to support Jersey's bee population.
And it's not just traditional industries JRC partner with – Church said the company had teamed up with CBD oil producers too, by recently starting to produce hemp as a break crop.
"For the last couple of years we have worked closely with a business over here that farms hemp for CBD oil, and it's being planted as a break crop," Church said.
One of the big issues facing Jersey's agriculture was nitrogen run-off which creates huge algae blooms on Jersey's picturesque beaches. The JRC developed a bespoke system of furrows to better capture nitrogen and shrink fertiliser use by 25 per cent.
Chairman of LEAF Marque, Tom Green, said: "[JRC's LEAF presentation] gets right to the heart and the core purpose of demonstration farms: the sharing of knowledge and the development of best practise as we together tackle the huge challenges posed by climate change and our shared desire to deliver from our farms and food industry healthy nutritious food for consumers, while doing all we can to care for and enhance the environment, farms and ecosystems that we have responsibility for.
The Jersey Royal Company is the largest farmer on the Jersey,farmingaround 8,300 vergées (1,800 ha) annually across 1,800 fields, and employing up to 450 staff.
It is a completely integrated business – growing, harvesting, grading, packing and marketing Jersey Royal new potatoes to retailers, wholesalers, packers and processors.