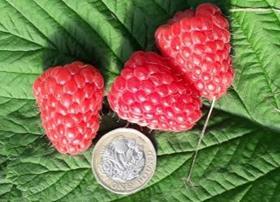 A root rot resistant raspberry variety bred by Scotland's James Hutton Limited is being hailed as a major breakthrough for soft fruit growers.
James Hutton Limited (JHL) soft fruit breeder Nikki Jennings said the new Glen Mor variety is the floricane raspberry variety that "the industry has been waiting for" following successful trials.
The variety was unveiled today at JHL's Fruit for the Future event, taking place online.
Root rot is devastating to raspberries in temperate regions around the world according to JHL, and is impossible to eradicate from infested soils with current available control.
It has prompted a shift to raspberry production out of the soil into substrate, in pots, to escape thepathogen, which is a costly growing system.
Nikki Jennings, a JHL soft fruit breeder, said: "Among the three new raspberry varieties James Hutton Limited has released to soft fruit growers in 2020, Glen Mor is the floricane raspberry variety the industry has been waiting for, with genetic marker Rub118b conferring resistance to raspberry root rot."
"We are very excited to release Glen Mor as our first variety with the root rot marker, combining resistance with superior commercial quality. Root rot resistance offers growers the option to return to soil production which makes plants much easier to manage at a lower cost."
Breeding for root rot resistance has long been a major objective of raspberry breeding at the James Hutton Institute.
Dr Julie Graham has spent over a decade developing the first genetic linkage map for raspberry and subsequently identifying molecular markers to link important traits to genetic regions. Deployed early in the breeding process, this has helped speed the release of new varieties.
Trials of Glen Mor have seen plants spent six years in a soil plot infested with root rot and have shown no symptoms of the disease, despite flooding over several seasons.
The variety wasfast-tracked from the breeding programme due to both outstanding trial results and retailer feedback. It was selected for release by the 2014-2019 tranche of the James Hutton Limited Raspberry Breeding Consortium, a partnership of marketing and grower groups, propagators, AHDB and Scottish Government.
This Consortium funds the breeding programme to create new raspberry varieties with superior fruit quality, suitable for the whole supply chain and are economical to grow.
Glen Mor has outstanding fruit quality, yield and flavour and due to its size and presentation, is economical to pick. Its large fruit size made choosing a name easy; Mor translates in old Scots as large, big or great. Glen Mor's flavour is described by breeder Nikki Jennings as "fruity and sweet, but with a balance of acid and notes of coconut".
Fruit for the Future (24-28 August) is the annual soft fruit-themed industry event hosted by the James Hutton Institute, intended for farmers, agronomists, representatives of the food and drink industries, scientists and others interested in soft fruit.
This year the event is taking place virtually, with a week's worth of updates from all Huttonsoft fruit breeding programmes: raspberries, blueberries, blackcurrants, blackberries and the all-new honeyberries. Three BASIS and two NRoSo points are available to delegates; seewww.hutton.ac.uk/FFF20for a full event programme.