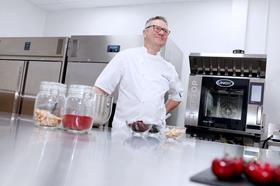 British cherry and apple producer J.O. Sims has invested in a new 'Innovation Centre' at its Spalding site so it can put its ingredients to the test and 'generate ideas to inspire its customers'.
J.O. Sims managing director Christopher Sims said the cutting-edge kitchen facility "is focused on driving food excellence and education for the benefit of the whole of our business and our customers'.
He added: "This exciting facility is at the centre of our business and will drive new market and business opportunities across all of our product divisions: fresh, snacks and ingredients.'
As part of the site's launch, J.O. Sims has welcomed experienced chef and food consultant Lawrence Brackstone to be the company'sproduct development manager.
Marketing and innovation manager Emma Raper said: "Lawrence will head up the new J.O. Sims Innovation Centre and provide the 'food heart' of our business. He brings with him a wealth of culinary and food industry expertise. We are thrilled to have him in our team."
Meanwhile, head of ingredients Jacqui Fairey said she is excited by the developments. "Having a purpose-built Innovation Centre with Lawrence at the helm will enable us to build on our current food culture, ultimately helping us to win new business and open up new markets," she said.
J.O. Sims is one of the UK's leading suppliers of fresh fruit, fruit ingredients and healthy snacks. The company farms over 1,000 acres of cherry and apple orchards worldwide and is a major UK supplier of cranberries and wild blueberries.