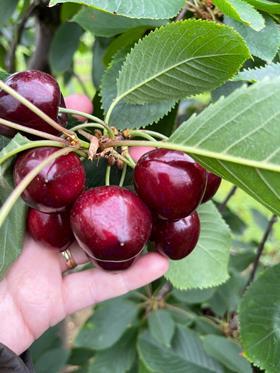 International fruit grower-distributor JO Sims today (12 July) announced the start of its inaugural UK cherry harvest at Broomfield Ridge farm in Elmbridge, Worcestershire, which it took over in March.
Despite a record-breaking number of frost events in April and May, the LIncolnshire-based firm said early indications show that fruit size and quality look excellent and 'a successful season beckons'.

Broomfield Ridge is the latest addition to JO Sims' network of cherry farms around the world, including Chile, Spain, US, Canada and South Africa.
Emma Raper, marketing and innovation manager at JO Sims, said UK demand for year-round cherries continues so extending the traditional UK cherry season has been a focus for the company, as it looks to achieve its goal of 52-week availability of high-quality fresh cherries.

"JO Sims recognises the need to offer UK season fruit in the cherry supply calendar to support its customers ambitions to present locally sourced cherries where possible,' she said.

JO Sims managing director Christopher Sims added: "Since taking on the running of the farm at the start of March we have assembled a fantastic team who have been able to put in place a number of improvements on site, calling upon the expertise of our network of growers across the globe. This has enabled the Broomfield Ridge team to improve productivity and yields from the site."

Sims continued "We are extremely excited to be able to offer our UK retail customers cherries from our first UK farming venture and look forward to the successful season ahead."

Despite a two-week delay in harvest, the Spalding-based firm said it expects to reap the rewards of a successful cherry season against the odds, owing to the unique insights and expertise of its wider agronomic team.
JO Sims is a leading supplier of fresh fruit, fruit ingredients and healthy snacks. The company farms over 1,000 acres of cherry and apple orchards worldwide and is the UK's largest supplier of cranberries and wild blueberries.
Since it was founded in 1896 by Josiah Oliver Sims, the business has built a series of long lasting relationships with leading quality growers and processors around the world, to bring a wide variety of fresh fruit and innovative fruit ingredient solutions to the UK markets.