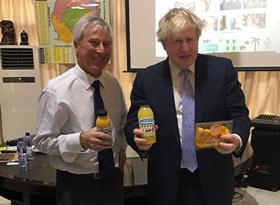 New Prime Minister Boris Johnson has said he "will always back" British farmers ahead of new Brexit negotiations.
Since entering Number 10 Johnson has taken a tougher stance on Brexit by expressing a willingness to revert to a no-deal Brexit if the UK and EU cannot agree over the Irish backstop solution, while ramping up no-deal preparations.
The NFU has been firm in its demand for a withdrawal agreement with Europe, with president Minette Batters describing a no-deal scenario as a potential "catastrophe" for farmers.
Visiting farmers in Wales today, Johnson said: 'I will always back Britain's great farmers and as we leave the EU we need to make sure that Brexit works for them.
'That means scrapping the common agricultural policy and signing new trade deals - our amazing food and farming sector will be ready and waiting to continue selling ever more, not just here but around the world.
'Once we leave the EU on October 31, we will have a historic opportunity to introduce new schemes to support farming - and we will make sure that farmers get a better deal.
'Brexit presents enormous opportunities for our country and it's time we looked to the future with pride and optimism.'
Many farmers will already be aggrieved by Johnson's harder stance on Brexit, however, which saw the pound fall to a two year low against the US dollar this morning, meaning inputs and imports for production become more expensive.
The pound also fell against the euro by 1.34 per cent to 1.0981.