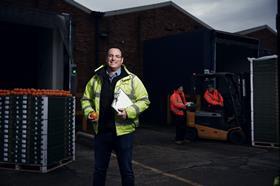 Finding out your business is one of the fastest-growing companies in the UK might, I imagine, feel a bit like being a kid again and being pleasantly surprised when your mum marks your impressive new height on the living room wall.
The satisfaction you feel when it's confirmed you've had your long-awaited growth spurt is hard to beat, and when I speak to Jupiter Group MD Mark Tweddle he isn't slow to mention his company's recent inclusion in the Sunday Times International Track 200 – a list of Britain's mid-market private companies with the fastest-growing international sales. The man from Lichfield, Staffordshire certainly doesn't go overboard, however. "It was pretty good," he says, "a nice surprise".
Becoming a grower, as well as an importer, is what has triggered Jupiter's meteoric rise, Tweddle explains. "This has been a big shift, and we've grown rapidly since 2015 when we started securing licence agreements with breeders in various countries," he says. "I can't say this was the plan when we first started Jupiter in 2003. Back then it was just a blank sheet of paper, a telephone and a desk – that's all we had."
As well as importing kiwis, stonefruit and topfruit from various countries, the company now grows table grapes in Greece, India and Chile. It is the master licensor of several new varieties in the first two, and in Greece the Shropshire-based firm has teamed up with Israeli breeding company Grapa Varieties to add four new table grape varieties to its ARRA line, as well as an Inia variety called Maylen. Tweddle is confident the new additions can challenge dominant cultivars Thompson and Crimson, saying all the new ARRA varieties will "add something very different to what's currently available".
The focus in Greece is on extending the production window, with a number of late varieties introduced to help producers compete with growers in Brazil and Peru. "We would like to sell fresh green grapes from Greece up until mid to late November and red and black grapes up until the end of November/beginning of December," Tweddle says.
Since over 98 per cent of Greek grapes are sold on the continent, European markets will be Jupiter's initial target, but the company is confident that some of the later red and black varieties will create demand in the Far East and Middle East too.
The timing of varieties is less important in India, by contrast, since grapes are harvested there in winter. "We'll be able to grow these different varieties both early and late," Tweddle says.
Further opportunities are being explored in both Turkey and Argentina, where Jupiter has opened offices in the past 12 months. The company is looking to source grapes, citrus and topfruit from Turkey, and Tweddle reserves special praise for the country's apple industry. "It uses new techniques, there are fully netted orchards and the irrigation systems are very impressive," he says.
In Argentina, meanwhile, Tweddle is hoping rugby can provide an unlikely route into the fruit trade, particularly in citrus and topfruit. Having met the country's former loose-head prop Marcos Ayerza at his Leicester Tigers testimonial dinner in 2015, Tweddle recruited the player to work for Jupiter from his home country.
Ayerza's fame in Argentina has already helped Jupiter expand its supply base and Jupiter is hopeful of further growth. "Marcos is a hugely popular figure, having played in the international team for 11 or 12 years," Tweddle says. "He's a wonderful asset to our already fantastic group of employees across the globe.'