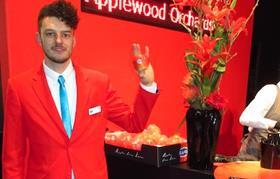 Apple brand Kanzi is ramping up its 'Kanzi man' campaign to grow consumer engagement over social media during the 2017-18 season.
A short Youtube video featuring the Kanzi man, who was loosely based on UK comedian Mark Cooper-Jones, has already reached 75 million viewers.
Trade-focused marketing has included trade fairs, with two Kanzi men on hand at Fruit Logistica this week to hand out samples at the company's stand.
The concept is to 'seduce life with a great-tasting apple', with the campaign promoted across Europe and the UK.
Myrella Boer, head of marketing at brand manager GKE, said the Kanzi Man initiative is resonating with consumers, and helping to build brand awareness.
Other planned marketing activity includes competitions and tastings, Boer said.