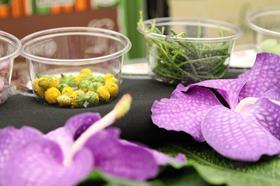 Cress and micro produce specialist Koppert Cress has appointed two new managers to drive growth and promote products in the UK and Irish markets.
Paul Da-Costa Greaves has taken on the role of country manager and will look after the UK and Ireland, while Franck Pontais has been appointed as development and innovations chef.
Both men are trained chefs and will present the Koppert Cress collection, visit restaurants and interact with chefs.
Private chef and food consultant Pontais has previously worked in corporate, celebrity and smaller informal meetings throough his own Suffolk-based catering and events company, Food Creation.
Da-Costa Greaves has appeared on television on BBC Good Food, Grand Designs, Cake International and other consumer shows. He was previously brand development chef and managing director at fine foods company Feeding Your Imagination.
In a statement Koppert Cress said it is proud to have two professionals join the company in its drive to make products available to British and Irish gastronomy.
As an exhibitor at last week's Swithenbank Food Expo, Koppert also launched two new products: Kaffir Lime Leaves and Cardamom Leaves.
Kaffir Lime Leaves combine with fish, lamb, pork and chicken and can also be used in both alcoholic and non-alcoholic drinks.
Cardamom Leaves can also be added to drinks or used in sauces or stocks.