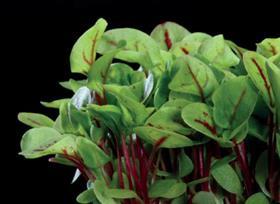 Dutch microgreens specialist Koppert Cress has launched an 'English Mix' of living microgreens for use by chefs in the UK.
The tailored selection, which was developed after consultation with restaurant kitchens nationwide, comprises eight mixed punnets of microgreens in small quantities, designed to reduce cost and waste.
Available from UK wholesalers, the half box will include pea shoot variety Affilla Cress, coriander variety Ghoa Cress, a type of red veined sorrel called Vene Cress and a variety of red amaranth called Scarlet Cress.
According to Koppert, these cresses are the most popular varieties ordered by UK-based chefs today.
"In most kitchens, chefs were asking for smaller quantities to those previously offered by Koppert Cress," explained Paul Da Costa Greaves, the supplier's country manager for the UK and the Gulf Cooperation Council.

"We listened and are delighted to announce the launch of the new English Mix, which offers eight mixed punnets of the most popular microgreens used by UK chefs in manageable quantities, as requested by them."
The company added that its close relationship with chefs was allowing it to adapt to the latest kitchen trends and menu innovation.