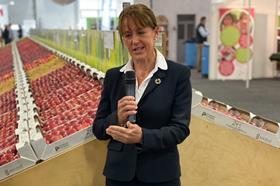 The labour situation in horticulture is reaching crisis point, NFU president Minette Batters has claimed.
Batters addressed the seasonal worker shortage when opening the National Fruit Show in Kent this week, citing the startling statistic from British Apples & Pears that as many as 16 million apples will go unpicked this year.
The NFU president revealed she met with Defra minister George Eustice this week to press the industry's case, as well as making representations to the Home Office and even No 10.
This year the government has run a trial whereby the industry can recruit 2,500 seasonal workers from around the world, and there are calls for that to be ramped up quickly. "The Seasonal Agricultural Workers Scheme is not an immigration issue," Batters said. "We are at crisis point. We are asking government for a commitment to massively upscaling the trial scheme right now, in 2019. We have been the most preferred nation for seasonal workers over the years but we have lost that due to the devaluation of the pound and people feeling unwelcome because of Brexit."
Describing labour as the "number-one priority" for NFU Horticulture, Batters said progress had been like "wading through treacle" but insisted the union will continue to press the industry's case at every opportunity.
While she said the chances of a no-deal Brexit next week have almost completely rescinded, Batters added that the NFU is also extremely disappointed about the proposed lack of tariff protection for the horticulture sector under any future no-deal scenario.