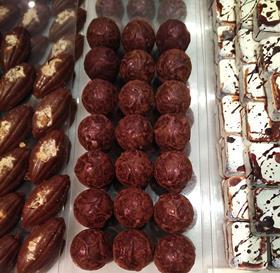 Renowned chocolatier Paul A Young has added a California Prune and gin chocolate to the range at his three London shops in a move to promote the dried fruit and widen his repertoire.
Young, who was formerly the head pastry chef for Marco Pierre White at London's prodigious Quo Vadis and Criterion restaurants, has a reputation for dreaming up experimental flavour combinations in his chocolates.
His new prune-based creation, called 'Four pillars bloody Shiraz gin with California Prune puree', is on sale at his three London shops in Soho, Islington and Bank.
As an ambassador for the California Prunes brand, Young regularly includes California Prune puree in his award-winning chocolates, in this case to "help the ganache blend well" and to give the truffle "a rich texture".
Commenting on his latest addition, Young said: "California Prunes not only deliver on achieving a superior flavour, they also help to impart improved texture and, of course, a wonderful natural sweetness."