City of London Corporation wins Market Manager and Market Team of the Year at National Association of British Market Authorities Awards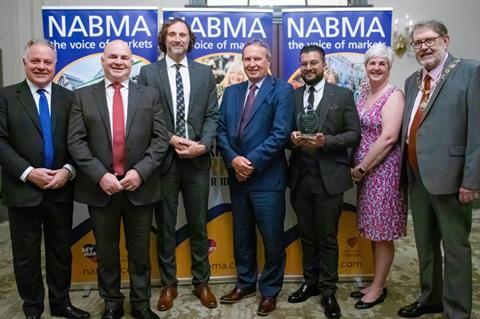 The City of London Corporation picked up two major awards at this year's National Association of British Market Authorities (NABMA) Awards.
At a gala dinner in Harrogate on 9 October, the City of London's markets director Ben Milligan was named Wholesale Market Manager of the Year for his long and distinguished operational and strategic career in markets.
Recognised for being at the forefront of delivering the highest standards of food safety and product integrity, Milligan has now become programme director for the Corporation's Markets Co-location programme, which will see Billingsgate Fish Market and Smithfield Meat Market move to the same site at Dagenham Dock in 2028.
The ambition is for New Spitalfields Fruit and Vegetable Market to join the other two markets at the new location at a later date.
New Spitalfields also won Wholesale Market Team of the Year, in recognition of its unwavering commitment to preserving traditional markets while adapting to industry changes.
NABMA said: "This award recognises a team with a diversification of skills, experience and perspectives in showcasing the culture and heritage of their market.
"It is adept to change and delivering it with onsite waste management and recycling projects as examples. It demonstrates many collaborative partnerships that have extended beyond internal operations to forging strong partnerships with key stakeholders, including suppliers, clients, and industry influencers.
"It has adapted an innovative partnership with City Harvest in a move set to provide thousands of meals for those affected by food poverty, to cut waste disposal costs for tenants, and also provide considerable environmental benefits."
In addition, Ogun Gortan from the Corporation's Markets Team was 'highly commended' for his Diploma for Markets Administration.
Chairman of the Corporation's Markets Board, Henry Pollard, commented: "This recognition underscores the team's exceptional collaboration, tireless dedication, and their ability to set a benchmark for market practices.
"I am proud that their work is being recognised at the highest standard and it demonstrates that we are the best in the industry. With our Markets Co-location programme underway, these awards confirm we have the best people to deliver it."
Other winners at the NABMA Awards included Shaun Johnson of Borough Market for Large Market Manager, Pauline Rider of Chelmsford Market for Small Market Manager, Leeds Kirkgate Market Events Team for Large Market Team of the Year, and Cirencester Markets Team for Small Market Team of the Year.