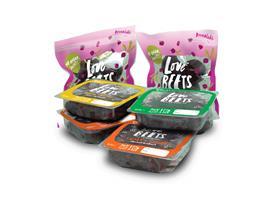 G's Fresh's new beetroot range Love Beets will be advertised on celebrity chef Ainsley Harriott's new six-part series: Ainsley's Caribbean Kitchen.
The new marketing push follows the brand's launch in May, exclusively sold at Tesco, following success in overseas markets including the US and South Africa.
Ads for Love Beets will air during Harriott's show on ITV as well online segments of the programme, "bringing high-profile awareness to the brand", according to G's.
Ainsley Harriott rose to prominence in the 1990s having trained as a chef at Westminster Kingsway College, becoming presenter on BBC'sCan't Cook Won't Cook.
Commenting on the sponsorship, Jenni Danby, G's Fresh head of marketing for global brands said: "The audience of Ainsley's Caribbean Kitchen is a perfect fit for the Love Beets brand. We're particularly interested in speaking to the adult 'foodie' audience; those that love good ingredients and want to know how to use them.
"Overall, it's important for us to communicate the wide variety of flavours and formats we have to share," continues Danby. "We want people to understand that beetroot is a modern and versatile vegetable perfect for adding a 'pop of purple' to a host of different dishes – whether that's through delicious summery salads, Mexican brunches or even Caribbean cooking."
G's Love Beets range was the brainchild of husband and wife, Guy and Katherine Shropshire, and features a selection of different flavoured or prepared beetroot options.
First launched in the US in 2010, the Shropshires said they wanted to help more people discover beetroot.
The current marketing campaign coincides with a wide-ranging PR and social media campaign led by communications agency, Richmond & Towers, under the banner "Live Colourfully, Love Beets".