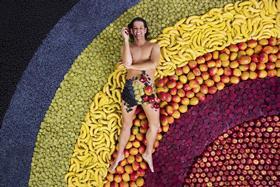 Made in Chelsea star Ollie Locke is boosting fruit and veg consumption thanks to a new tieup with smoothie producer Naked.
Locke has teamed up with Naked to call on people to 'Be a Rainbow Machine' by encouraging people to not only embrace a diverse 'rainbow' of fruit and veg in their diet, but also to celebrate inclusion in their work, life and communities.
The campaign, to support the launch of the Naked Rainbow Machine smoothie and kicking off at the start of Pride Month, will be supporting Stonewall and their fight for the freedom, equity and potential of LGBTQ+ people. 10p from each bottle of Naked Rainbow Machine sold throughout June and July will be donated to Stonewall to support LGBTQ+ young people who aren't in education, training or work.
According to Stonewall, many LGBTQ+ young people face significant challenges at home, school, college, university and work, which can profoundly impact on their mental health and affect their experiences in education, training and work. Naked's donation will support Stonewall's work helping LGBTQ+ young people as they try to overcome these challenges.
Locke has starred in a photoshoot where he lies against a backdrop of the fruits and vegetables that are included in each bottle of Naked Rainbow Machine. The image is said to represent Locke's 'bold and brave side and his pride at standing up for diversity and inclusion', according to the company.
Naked Rainbow Machine features red apple, mango, kiwi, blackberry, blueberry, pink beetroot, elderberry and banana, and is also boosted with vitamins C, E, B1, B2 and B6.
Locke said: "I'm excited to be working on this campaign with Naked and Stonewall - it's great fun and for such a great cause. I myself came out on TV in front of the nation in my twenties, and many people watched as I navigated my sexuality, which has come with various challenges both in my public and private life.
'While I was fortunate to have had great support and work thanks to Made in Chelsea, unfortunately this is not the case for many LGBTQ+ young people. I'm proud to be able to work with Naked and encourage everyone to 'Be a Rainbow Machine' and support Stonewall and the amazing work they do to help LGBTQ+ youth get great education, training and work. So not only is the new Naked Rainbow Machine a great way to add fruit, veg and essential nutrients to my diet, it's also helping me celebrate inclusion in all its many forms."
Charlotte Ashburner, senior marketing manager at PepsiCo, added: "Ollie is the perfect ambassador for this campaign as he is a strong voice for the LGBTQ+ community, having gone through his journey in front of the nation on TV, which was an inspiration to many. As Naked Rainbow Machine is a smoothie bursting with fruits and vegetables from all the colours of the rainbow and with the rainbow being a well-known symbol of the LGBTQ+ community, we wanted to take this opportunity to show our support for the essential work that Stonewall does to support LGBTQ+ people.
'At Naked we want to encourage everyone to not only embrace a diverse 'rainbow' of fruit and veg in their diet, but also to embrace and celebrate inclusion in their work, life and communities."