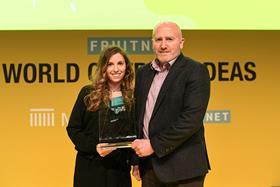 British retailer Marks and Spencer picked up the inaugural FLARE Merchandising award for its innovative new store formats, launched last year.
The new Fruit Logistica Award for Retail Excellence recognises efforts from retailers across the world to promote fresh produce categories through better marketing, store layouts and ranging.
With prizes across three categories, the first year of FLARE also saw Spar Austria win the Tomatoes category, and French retailer Monoprix take home the award for Berries.
M&S' Merchandising award comes after a five month overhaul for the British supermarket across four of its stores, reimagining the ways in which fresh produce can be presented to shoppers.
On receiving the award, Leanne Wilkinson, store environment and design manager at M&S, said: "We're proud of what we have delivered, in four stores in the space of five months. The pace at which we have done this showcases our transformation at the moment.
"It's a great example of what happens when you work collaboratively from our suppliers to our retail stores. We couldn't have done it without the people involved in marketing, categories, and our store teams.
"We really wanted in these stores to showcase our amazing fresh credentials. Our produce sections are at the front of our stores and we really wanted our customers to "eat in colour", which is the strapline we have across all of our stores and marketing.
"It's still really early days, we have done four stores with many more to come. We hope to continue to innovate and inspire our customers to shop our fresh produce in new ways."
Marks and Spencer's new stores revamped its fresh produce format by introducing greater theatre to the shopping experience.
New 360-degree displays featuring more loose produce, with providence and recipe instructions adorn fresh produce sections, while the installation of a vertical farm, built by German company Infarm, caught headlines.
The new format first appeared at Hempstead Valley in Kent, followed by Clapham Junction, London; Abbey Centre, in Belfast, and Hedge End, Kent.
A spokesperson for M&S told FPJ that initial customer feedback for the stores had been positive.