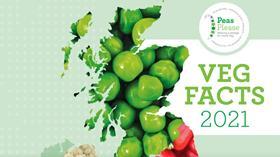 Almost a third of children aged 5-10 eat less than one portion of veg a day, while more than three-quarters of adults eat less than the recommended amount.
That's according to the 2021 Veg Facts report, released this week by the Peas Please initiative in partnership with The Food Foundation, Food Sense Wales, Nourish Scotland, Belfast Food Network and Food NI.
The report continues to show that both adults and children are not consuming enough veg to meet the government's Eatwell Guide recommendations. This is likely to have a long-term impact on the nation's health, according to Peas Please, with diets that are low in vegetables and legumes being associated with just under 18,000 premature deaths a year in the UK.
Both children and teenagers continue to consume far too few vegetables, with 29 per cent of 5-10 year olds eating less than a portion of veg a day and only six per cent of 11-16 year olds eating the amount of veg recommended in the Eatwell Guide.
The report also highlights where children are getting their vegetables from, with over a fifth of children's and teenager's vegetable intake now coming from foods classed as ultra processed, which are often high in salt, sugar and fat. Baked beans and pizza together contribute 16 per cent of children's vegetable intake.
A number of children are at risk of micronutrient deficiencies, the report warns. Some 38 per cent of children aged 11-16 have magnesium intakes below the lowest recommended amount, and 21 per cent have intakes of vitamin A below the recommended amount. In the UK vegetables contribute less than 10 per cent to intakes of these nutrients and could therefore be important sources of food which can contribute to driving up intakes of these essential nutrients.
The affordability of vegetables is also highlighted in the report as being a major factor in low consumption rates. Calorie for calorie, foods high in sugar or fat are a third of the price of the cost of vegetables. The report points out that if the population started to consume the recommended 5 A Day of fruit and veg, it would increase the value of UK veg production by £261 million. If this rose to seven a day of fruit and veg, it would add another £1 billion to the UK economy.
Food Foundation executive director Anna Taylor said: "The latest report from the Peas Please initiative is a timely one -highlighting the barriers to eating enough veg that large sections of the population continue to face. Although we have seen some really encouraging progress made by our Peas Please pledgers, there has never been a more critical time to really accelerate action and ramp up vegetable intake. Veg are the golden thread connecting diets that are both more healthful and more sustainable, and we must act now to ensure that everyone in the UK is able to access and afford enough veg."
Awards finalists revealed
Peas Please works with over 100 pledgers across the food system and also this week announced the finalists in its 2021 Peas Please awards. The awards recognise businesses that have gone above and beyond and are leading the way in terms of transforming their businesses to drive up vegetable consumption.
The winners will be announced on 24 June, when the The Veg Summit will be broadcast from River Cottage and hosted by chef and writer Hugh Fearnley-Whittingstall.
The finalists are:
The Peas Please Individual Champion
Amanda Whatley, HC3S
Bethan Tempest, Sainsbury's
Charlotte Newman, Havering Catering
Lisa-Marie Huggins, Compass Group
The Peas Please Innovation Prize
Aldi, Project Fresh
Castell Howell
GroentenFruit Huis, Take care of each other
Compass, Plantilicous
The Peas Please Pledger Champion
Henderson Group Spar NI,
Bartlett Mitchell
Sainsbury's
PwC
The Peas Please Rising Star
Community supported agriculture
University of Edinburgh.
Zizzi
The Peas Please Good Society Prize
Lantra
Lidl
Social Farms and Gardens
Tesco
The Veg City Prize
Oxfordshire
Durham
Hull
Cardiff
Leeds
The Veg-O-Meter Prize
Autograph Education, Interverse
Cardiff and Vale University Health Board
Tesco
Veg Cities