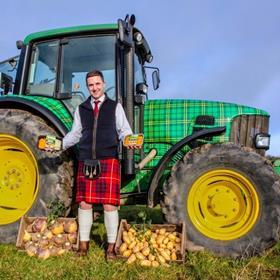 Northern Irish grower and processor Mash Direct has launched a new haggis product in time for Burns Night celebrations.
'Burns Bites' are made from haggis, neeps (mashed turnip and swede) and tatties (mashed potato) and were developed in response to the "significant increase" in the number of people celebrating Burns Night.
They also offer an alternative to existing Burns Night products on the market, which are usually sold as individual sides to a Burns Night Supper.
Mash Direct launched its own 'Neeps and Tatties' side in 2006.
Burns Bites are coated in a crispy, gluten-free crumb, described as "a unique offering in the marketplace". They will be stocked in Tesco Scotland, Morrisons Scotland, Nisa Scotland and other independents throughout Scotland.
Lance Hamilton, sales director at Mash Direct, said: "Innovation is the lifeblood of the company. This year we decided to innovate new products for the Burns Night period following an increase in the number of consumers celebrating Burns Night throughout Scotland and other parts of the UK."
The news comes as Mash Direct saw pre-tax profits rise from £207,415 to £1.1 million for the 52 weeks to 29 February 2016.
The County Down business also reported a 5.7 per cent increase in sales from £14.2 million to £14.96 million last year, which it said was down to increased awareness of its products.
'The sustained investment in the market of our brand has raised awareness of the product portfolio away from our home market of Northern Ireland even further,' a company statement said.
Over half (53.8 per cent) of the company's sales are generated on the UK mainland, but the company has invested in export markets over the past few years.
'We have also reinvested in product development and training and we have some very exciting new products coming out shortly, as well as a new national listing with Morrisons about to start," the statement said.