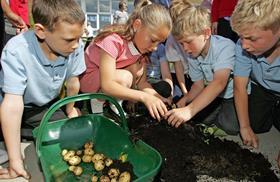 Major potato brand McCain Foods has partnered with AHDB to promote its Grow Your Own Potatoes to schoolchildren.
Launched in 2005, Grow Your Own Potatoes was one of the first primary school based growing projects. Since then, it has become the largest of its kind with over 3 million children having taken part.
Last year almost 16,000 growing kits were distributed to over 10,000 primary schools across Great Britain.
Sue Lawton, education manager at AHDB said: "The straightforward and hands-on nature of the project makes it perfect for young pupils. We get great feedback from teachers, which is why it's grown in popularity to the point where nearly half of British primary schools are involved."
The seed potatoes grown by the schools are all donated by local companies, so the project has always benefitted from industry support, but McCain are the first principal sponsors.
Cygnet PB are the scheme's national seed partner, providing the variety Rocket to all schools. While McCain are one of eight regional seed partners along with Agrico UK, Meijer Seed Potatoes, Caithness Potatoes, E Park & Sons, Branston, Puffin Produce and Solana; who all provide a 'local variety' for the children to grow.
Visitors to the BP2019 exhibition in Harrogate can learn more about the scheme, including how to get their local school involved, by visiting the McCain stand, number 131.
Daniel Metheringham, Head of Agriculture at McCain UK said: "It is vital that children know where their food comes from, and Grow Your Own Potatoes provides a real connection to the food on families' plates.
"We're proud to have the opportunity to extend our support from a seed supplying regional partner to principal sponsors. The extra funding means the project can grow. More schools can get involved and even more children will be getting their hands dirty while making that mental connection between food and farming."