New product aims to add incremental growth to the frozen food category
McCain has launched Baby Hasselbacks in what it has described as its biggest new product development in over a decade.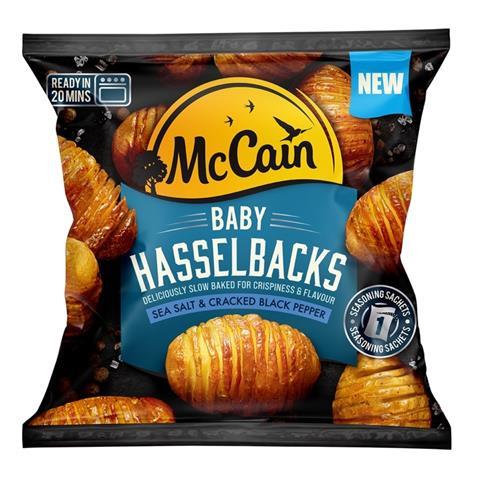 The frozen potato specialist said it was inspired by consumer insight revealing that shoppers lack inspiration for midweek meals and regularly struggle to find quick and easy choices that deliver both on taste and value.
The new product will provide consumers with convenience and quality as well as increasing appeal to the growing frozen food category, it added.
McCain Baby Hasselbacks feature skin-on, pre-sliced whole baby potatoes, with each 653g bag also including a sea salt and cracked black pepper flavour sachet. This allows shoppers to customise the potatoes to their specific seasoning preferences.
The new line has launched into Waitrose, Asda, Tesco, Sainsbury's, Morrisons, Iceland and the Co-op, priced from £3.69.
The potatoes score all green on the nutritional traffic light system, and are both vegan and gluten-free. They have been drizzled with vegetable oil and slow baked for added flavour and crispiness.
Mark Hodge, VP of marketing at McCain, said: "We can all fall into the trap of repetitive weeknight meals, so we're really pleased to launch this fantastic new product. We're helping our customers to add restaurant quality foods to their home cooked meals, in a matter of just minutes. This new launch is the perfect combination of delicious flavour and convenience.
"The range is perfect to accompany a variety of meals whether it is a relaxing evening in after a long day or to add something fun and different to family mealtimes."