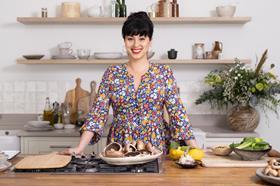 Grower body The UK and Ireland Mushroom Producers is launching a new campaign to support its Made With Mushrooms platform developed to inspire the nation to cook with mushrooms.
Today (19 May), the group has announced its first collaboration with the celebrity chef, bestselling author, columnist and champion of sustainable food, Melissa Hemsley, to show consumers how easy it is to use mushrooms into an array of tasty dishes.
Hemsley's professional career in food began as a private chef with her sister in 2010, and she has since published four cookbooks. She recreates healthy and inspiring dishes that be easily made at home to her 182k Instagram followers.
The partnership with Hemsley will focus on encouraging more people to create vegetable-based dishes, and will be amplified through PR, social media and digital activity, the organisation said.
As consumers continue to seek out better tasting, healthier and fortified foods, The UK and Ireland Mushrooms Producers said it wants to inspire and educate people on why they should eat more mushrooms, as just eight mushrooms a day will deliver 100 per cent of your RDA for vitamin D and Omega-3.
Mushrooms have proven to be a versatile ingredient used in home-cooking, experiencing a large surge in sales during the pandemic due to their health credentials, the group said.
Kantar data has recently seen total volume sales of mushrooms in the UK rising by 19.5 per cent in comparison to the previous year, outperforming other vegetables in the category, the producer organisation added.
'This is not only due to their affordability, sustainability and notable health credentials, but when cooking with mushrooms, the whole mushroom including the stalk can be cooked, making them the ideal ingredient providing zero food waste,' it said in a statement.
Hemsley will be creating a series of recipes with mushrooms that will be available via the Made With Mushrooms website and social media channels.
"I have always been a fan of using mushrooms in my dishes. They are versatile, healthy and have a fantastic umami flavour, which have worked perfectly in my new meat-free recipes this spring,' she said.
The UK and Ireland Mushroom Producers said it will also work with other individuals to produce recipes throughout the year, to encourage the nation to eat more mushrooms.
The UK and Ireland Mushroom Producers is a partnership between farmers across the UK and Ireland who are producing Vitamin-D-enriched mushrooms.