Brazilian melon giant Agricola Famosa has set up a UK subsidiary in Spalding to better supply the UK market year-round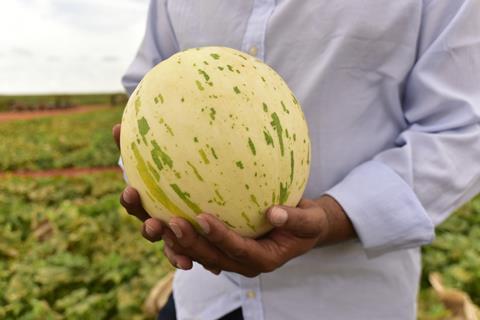 There's a new kid on the block in the UK melon trade. Lincolnshire-based importer Melon&Co Ltd was established last year by Brazil's largest melon producer Agricola Famosa to offer year-round supply to the UK market.
Headed up by Justin Szymborski (governance and strategy), Steve Spikings (logistics and supply chain), Sisco Tello (sourcing) and Scott Stainsby (customer relations) and supported by a wider team, the company focuses in particular on the "shoulders of the season", to maximise product availability.
Spalding, in Lincolnshire, was selected as the new company's base due to its proximity to multiple chilled storage and distribution options in the area, Agricola Famosa reveals. In addition, Spalding also offers a comprehensive range of complementary ancillary services, such as training, labour provision, mechanical handling equipment, packaging and "industry-specific support forums", the Brazilan grower says.
Since trading began last August, Melon&Co has handled approximately 50,000 tonnes of melons – mainly from Brazil, but also from Honduras, Costa Rica and, most recently, Spain – for sale to the UK retail, processing, food service and wholesale market sectors.
Of its melon range, which includes yellow honey dew, piel de sapo, mini watermelon, galia, cantaloupe, snowball, and watermelon, yellow melon tops UK sales, they say. However, the team notes that watermelon is now popular year-round.
Other changes in the UK melon market include increased winter ranging and a greater diversity of varieties. This has resulted in a core year-round melon programme, although weather and promotions do affect sales.
So far, in spite of the Covid hangover and Brexit border delays, Melon&Co has enjoyed a good first 10 months of trade.
"Our clients have enjoyed good levels of service, despite supply chain disruption, whilst benefitting from a direct relationship with the production," a senior manager says. "One of the key benefits of directly marketing the production is the ability to keep our clients better informed about the development of the crop and have a greater influence on what the supply chain looks like and consequently the service that is on offer."
Located in north-eastern Brazil, Agricola Famosa has evolved it into one of the world's leading agribusinesses since its inception in 1995. The company farms some 30,000ha and employs around 9,000 people during the peak harvest period.
"Agricola Famosa is well positioned regarding irrigation and labour," says the senior manager. "The business has excellent ethical and environmental policies that in turn have resulted in a very stable and sustainable business model. Agricola Famosa trials more than 500 new melon varieties per year through seed trials, always looking for properties that offer enhanced value. And the company's development of additional production areas in Brazil, that are less affected by torrential rain, has successfully lengthened the season.