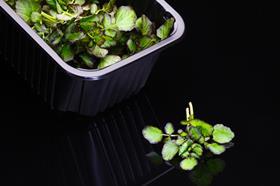 Traditionally the preserve of high-end chefs, micro produce is in some ways the high couture fashion of the produce category. But the news that Sainsbury's has launched its first-ever range of micro herbs as a bagged-salad mix perhaps signals a step-change in the category's future.
The retailer said it made the move into micro leaves in response to "food trends it has identified among its customers", perhaps indicating that the wider public – mostly already at ease with more exotic tastes across the wider salads category – is ready to embrace more novelty.
"We've seen a trend for customers making everyday food more exciting, and this new range of salads helps them to create salads which are full of colour, texture and intriguing flavours using more exciting leaves, micro herbs and even edible flowers," Georgina Lunn, Sainsbury's product developer for fresh produce, tells FPJ.
"We've used viola flowers, which have a velvety texture, intense purple colour with a lettuce-like flavour – the perfect finishing touch to a summer salad."
It is still early days, but if the major retailers start to invest seriously in the micro produce category this has implications for the supply side, while the increased exposure can only help sales.
Manager of leading micro produce supplier Westlands Wow, Peter Taylor, says innovation remains the key to what is a fast-growing and inherently novel category. "The increasing exposure for micro produce is there at the moment. One of the things we see is a constant challenge to do something new. Innovation is a key thing for everyone – everyone's chasing something different, whether that's a new leaf, or a new growing system."
But consistent innovation comes with its own challenges, and Taylor notes that Westlands aims to "marry NPD with commercial development". And in an environment where everybody is searching for the next big, or rather, small thing, competition is naturally fierce with companies inevitably keeping their NPD cards close to their chest. Although Taylor won't reveal what trends the firm is focusing on at present, he says it has added to its glass area in the last 12 months and is now "very settled" on the recruitment front.
Dutch micro produce supplier Koppert Cress has been working closely with chefs and caterers, and says there is a growing trend for even more novelty among end users of its products. The company's UK manager, Paul Da-Costa-Greaves, explains: "Currently chefs are favouring alternative and unusual micros to the traditional ones currently used. Our newest arrival is Hippo Tops, which are red-tipped baby watercress, available in ready-to-go catering packs holding 200 pieces per pack. The banquet chefs and wedding planners love them!"
Requiring regular feedback from chefs to guide constant innovation, micro produce suppliers have been quick to embrace the opportunities of social media, and Twitter in particular. Da-Costa-Greaves says Koppert Cress notes that the company announces new release dates for its products on Twitter, while Taylor adds that Westlands does "a lot of engagement with the end user" via social media.
Specialising in micro greens, herbs and salads, Taylor says Westlands' strategy is to offer a broad range to the "aspirational" chefs, as well as the Michelin-starred ones.
"We like to think of our product range as broad, and we have a similarly broad customer base," he says. "We have a full offer, so we can supply chefs who are not necessarily high-end, but who are very aspirational. They want to be doing what the Michelin guys are doing."
Sainsbury's new micro produce bagged salad range:
Sweet Crimson Basil Salad: Micro leaf crimson basil, colourful baby leaves, and viola flowers.
Aromatic Oriental Salad:Coriander and purple shiso, with baby spinach, red batavia lettuce and tatsoi.
Powerful and Punchy Salad:Wild rocket and baby watercress, with baby red chard, young nasturtium leaves, micro leaf rocket and radish cress.