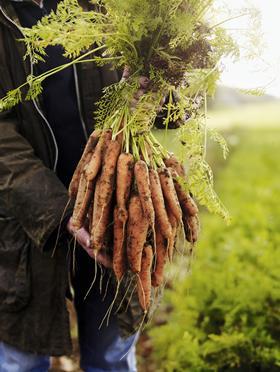 Shoppers are seeking out British produce more than ever according to Waitrose data.
Searches for British vegetables on Waitrose.com have increased by 227 per cent, when compared to the same time last year.
Almost 75 per cent of shoppers want to see more British food retailers sourcing British too, says new Waitrose research.
Watirose online searches for British chicken increased by 289 per cent, and British beef by a massive 889 per cent.
The supermarket revealed the figures to mark British Food Fortnight, running between 19th September – 4th October.
Rob Hues, Waitrose agriculture manager says: said, 'With more time spent at home, more home-cooked meals and many of us growing our own veg at home for the first time this year, there is an increased awareness of where and how food comes to our kitchen tables. Buying British is that natural extension to growing produce in your back garden and the growing interest in provenance.'
Alexia Robinson, founder of British Food Fortnight said: "British Food Fortnight is a brilliant celebration of all that is wonderful about home produced food.
"This year we have seen a huge rise in interest in British food and drink both from the public and business. We have seen communities coming together and rediscovering the importance and joy of buying local ingredients and supporting local producers."