The retailer pledges to sell only British-grown tulips this Mother's Day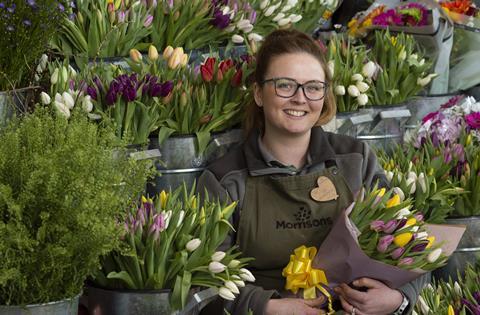 For Mother's Day (19 March) Morrisons has committed to selling tulips only grown in British nurseries to support UK growers and guarantee bouquet freshness.
Its announcement comes as the retailer gears up to sell some 1.2 million British tulips ahead of Mother's Day across its 499 UK stores.
Morrisons' British tulip range includes a handcrafted 'The Best' Tulip 18-stem bouquet for £8, and more pocket-money-friendly options – eight stems for £3.49 (or two bunches for £6) and 12 stems for £5.
Rob Hofmann, floristry buying manager at Morrisons, said: "Being one of the UK's biggest florists, we are always looking to provide our customers with fresh, beautiful blooms whilst supporting our British growers. Mother's Day is a huge flower ordering occasion and we are proud to offer a wide variety of bouquets and stems that are handmade by our expert florists in store."
Morrisons offers a five-day freshness guarantee for all its flowers in the home and has one of the quickest 'field to store' transit times. Stems are delivered fresh to stores each day and sourced from FlowerWorld - a 17.5 acre flower site in Derby, wholly owned by Morrisons.
The tulips are available in all of Morrisons 499 stores, alongside a wide selection of different floral arrangements.
Morrisons also has 192 florist stations in stores across the UK, where 300 skilled florists offer a 'create your own' bouquet service.