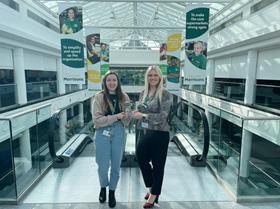 Morrisons has been awarded the Stone Fruit Retailer of the Year title for the 2020/21, season due to its strong category performance and support for South African produce this year.
South African growers' association Hortgro presents the award each season to UK retailers that have delivered exceptional results and collaboration during the campaign to promote stonefruit from South Africa.
Morrisons saw a large increase in peach, nectarine, and plum sales this year in comparison to 2020, achieving a significant growth in plums.
The retailer continued its support of the South African campaign by giving plums priority selling space in store, implementing branded shrouds across 450 stores in February.
"South Africa is our largest sourcing region for the Southern Hemisphere season and as a team we have focused on selecting the best varieties and growing regions throughout the season,' said Charlotte Ragdale, stonefruit buying manager at Morrisons.
Jacques du Preez, head of Hortgro, added: "We thought that the stonefruit team at Morrisons were the worthy winners of this award this year as their various promotions of South African fruit lines and consistent engagement with our growers impressed all of us here at Hortgro."