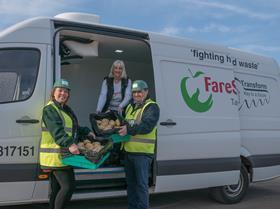 Morrisons has hit the 100,000-meal mark in its FareShare donations just nine months after partnering with the food redistributor.
The supermarket formalised the collaboration between its food manufacturing sites and the charity in April 2017, and since then regular donations have been sent to charities supporting vulnerable people across the UK.
The supermarket's Cutler Heights fruit packhouse, its Clayholes Farm vegetable packhouse and its Gadbrook Regional Distribution Centre in Cheshire are all now on board, as well as Morrisons' fish processing plant in Grimsby.
The addition of Clayholes Farm in Carnoustie, Scotland in December 2017 means FareShare now receives a regular supply of surplus potatoes north of the border.
The Morrisons team recognised that potatoes used as quality samples could be collected and bagged up for donation, rather than going to animal feed, and the samples are sent to FareShare Glasgow once a fortnight, where they are redistributed to local frontline charities.
Meanwhile, the provision of off-cut grapes from Morrisons' Cutler Heights fruit packhouse in Bradford has grown steadily since the project started in November 2017.

FareShare now receives surplus grapes three times a week from the site, and this week the project was expanded to include red grapes, which will significantly increase volumes.
Three months since the project began, FareShare has received 40 tonnes of off-cut green grapes, directly benefitting over 1,400 charities, including children's breakfast clubs, day centres for older people and community centres in deprived areas.
Following the success of the partnership, Morrisons will work with FareShare to embed the FareShare redistribution model further into their wider manufacturing network.
The charity's chief executive Lindsay Boswell said: "We are incredibly proud of our partnership with Morrisons... The fact that we have already reached a milestone of providing over 100,000 meals is testament to Morrisons commitment to putting their surplus food to the best possible use."