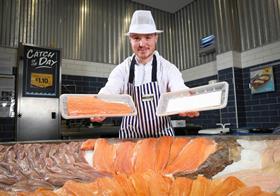 Morrisons has become the first retailer to announce the complete removal of black plastic from all of its own-brand food and drink packaging.
The move will ensure that almost 4,000 tonnes of plastic is made more easily recyclable – that's 7.4 per cent of the plastic used at Morrisons each year –marking an important step in the retailer's efforts to make all packaging recyclable, reusable or compostable by 2025.
One of the areas benefitting most from the change is the supermarket's ready meal range, which has moved from black plastic packaging to a recyclable plastic which contains 85 per cent recycled content.
Conventional black plastic packaging is coloured using carbon black pigments which make itinvisible to optical sorting equipment at plastic recovery and sorting facilities. This results in the packaging either being disposed of in landfill or incinerated.
Morrisons has already removed 9,000t of unnecessary or problematic plastic from its products, including174m plastic produce bags removed from fruit and veg aisles, 600t of unrecyclable polystyrene removed from branded food and drink products, and a further 1,300t of plastic removed thanks to the launch of the retailer's paper carrier bags.