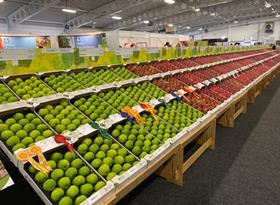 This year's National Fruit Show has featured "the most colourful British apples this century", industry leaders have claimed.
Warm days and cool nights in August and September, resulting in temperature swings of over 10 degrees, have brought vibrant colours and delicious, ripe apples, according to Ali Capper, chief executive of British Apples & Pears.
"The prolonged spells of sunshine coupled with rain throughout the growing season – our wonderful maritime climate – also helped the apples to grow slowly and develop their full flavour potential, meaning they taste better than apples from anywhere else in the world."
New British varieties on display at the show included Magic Star and Opal, alongside classics such as Gala, Jazz, Cox and Braeburn. "Shopper demand for British produce is rising and we're now meeting the demand for British apples year round, not just at the start of the season," Capper said. "Our growers are constantly investing in new orchards and varieties like Magic Star, Red Prince and Junami, to put the best-tasting British apples on supermarket shelves 365 days a year."
High-quality competition
The fruit competition is the centrepiece of the National Fruit Show, and judges said there was particularly fierce competition because of the high quality of apples and pears this year.
The big winners at this year's show included Bardsley England, JL Baxter & Son, Mallions, Mansfields, Katie Langridge, Four Elms Fruit Farm and Sandringham Apple Juice, all of whom picked up multiple awards.